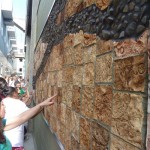 By zwackart on September 18, 2012
This Saturday in Ithaca the Food Justice Summit is happening and I will be there at the Watershed Wall to talk to folks as they do a Walkathon that winds it's way through downtown. I will also have a table at their street fair where you can come and make a food related tile. If you choose, you can leave your tile with me to be fired and it can become part of a community created mosaic! The Street Fair will be at 210 Hancock St. in Ithaca from noon to 6pm.
Posted in In the Classroom, Recent Projects | Tagged art, community, Food Justice, Ithaca, local food, mosaic, New York, NY, tile, walkathon, watershed | Leave a response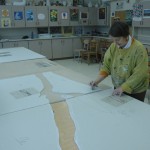 By zwackart on October 22, 2010
All ten schools in the Ithaca City School District participated in making this ceramic tile mosaic mural. The Ithaca Fine Arts Booster Group and the Ithaca Public Education Initiative generously sponsored the project and the City of Ithaca supported it as well. The mosaic is an image of the Ithaca area watershed with the smooth dark pebbles representing Cayuga Lake inlet and the tributary creeks that flow into it. Students made the tiles that represent the land masses from slabs of clay carefully cut out to create a map.
Posted in Recent Projects | Tagged Cayuga, clay, community, Ithaca, mosaic, mural, New York, public art, watershed | 2 Responses