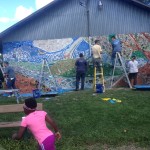 By zwackart on September 23, 2016
We finished grouting on September 11th. Using masonry stain, in our grout, added dramatically to the overall look of the work. I was pleased that our last day of work on the project was the 15 year anniversary of Sept. 11th, 2001, because creating art together is a powerfully positive statement of values, and a testament to the ability of communities to define themselves, and create the more beautiful world our hearts know is possible. Thank you to all the volunteers who helped bring this project to reality! And thank you to the Arts of the Southern Finger Lakes for funding it! And thank you for the many local donations of materials and food that propelled us forward!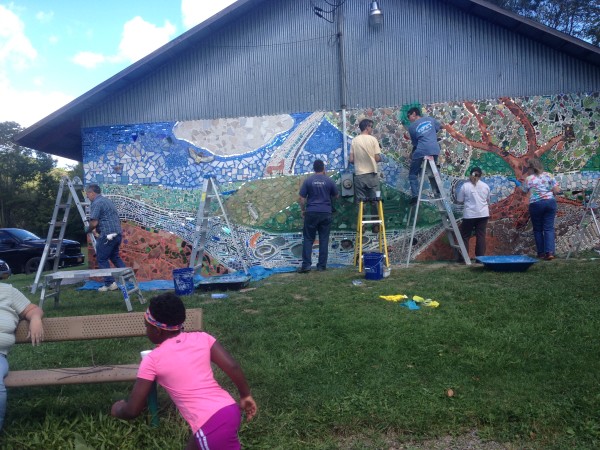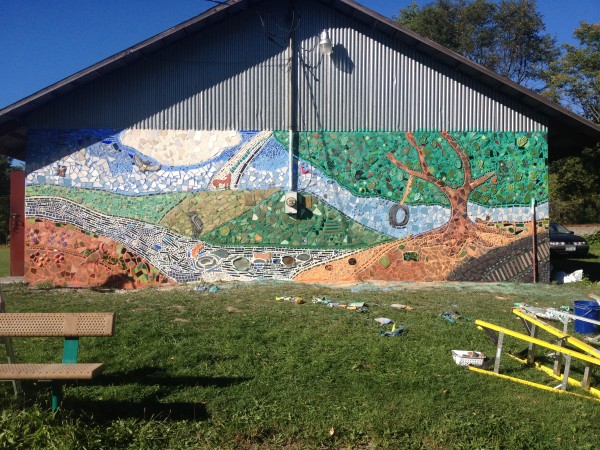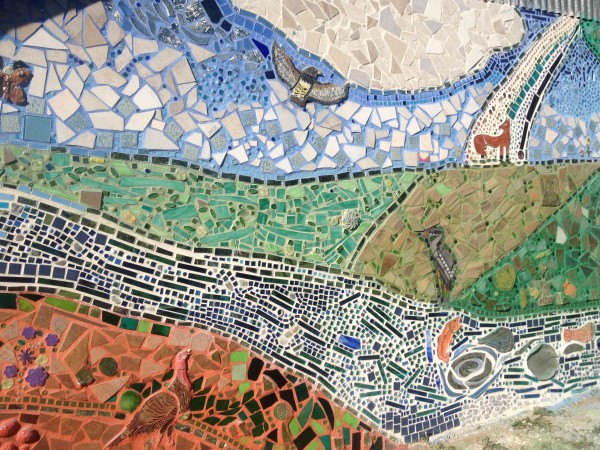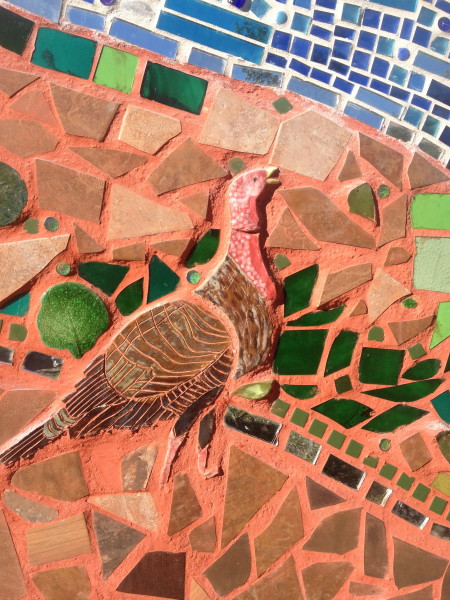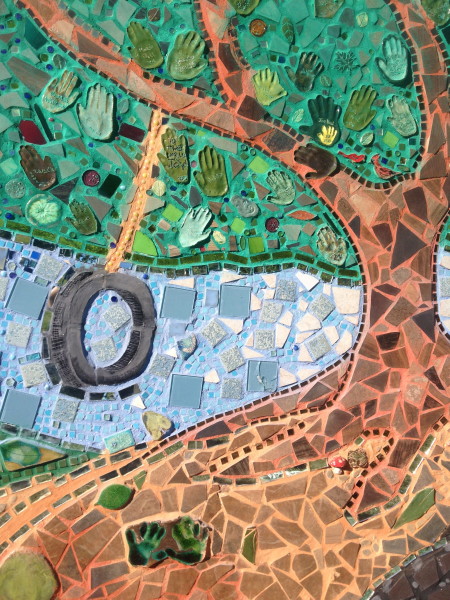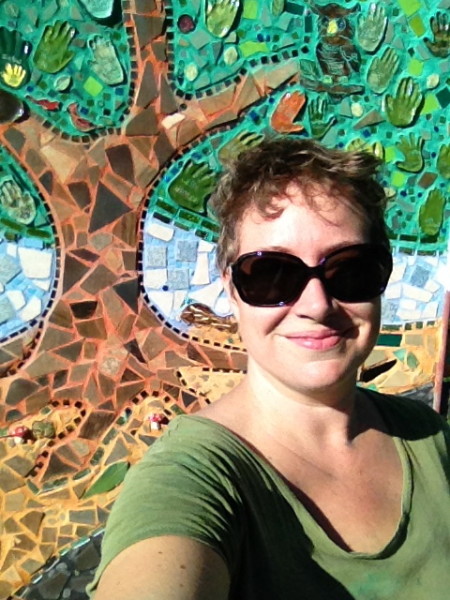 Posted in News & Events | Tagged Arts of the Southern Finger Lakes, community, Community build, glass, grant, grout, mirror, mosaic, New York, NY, public art, Rawley Park, revitalize public space, Richford, Sept 11, tile, volunteer | Leave a response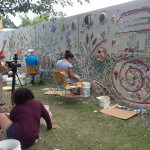 By zwackart on September 3, 2015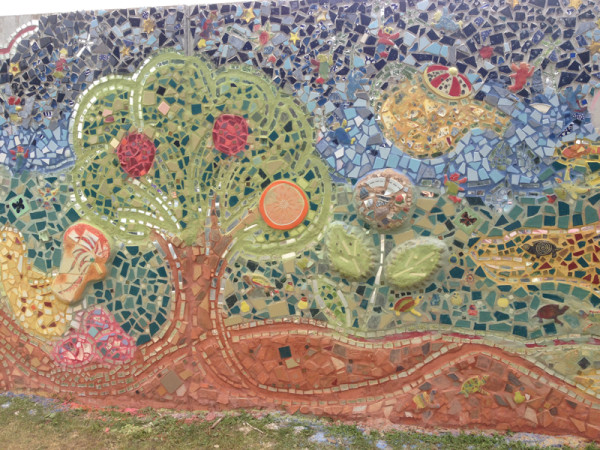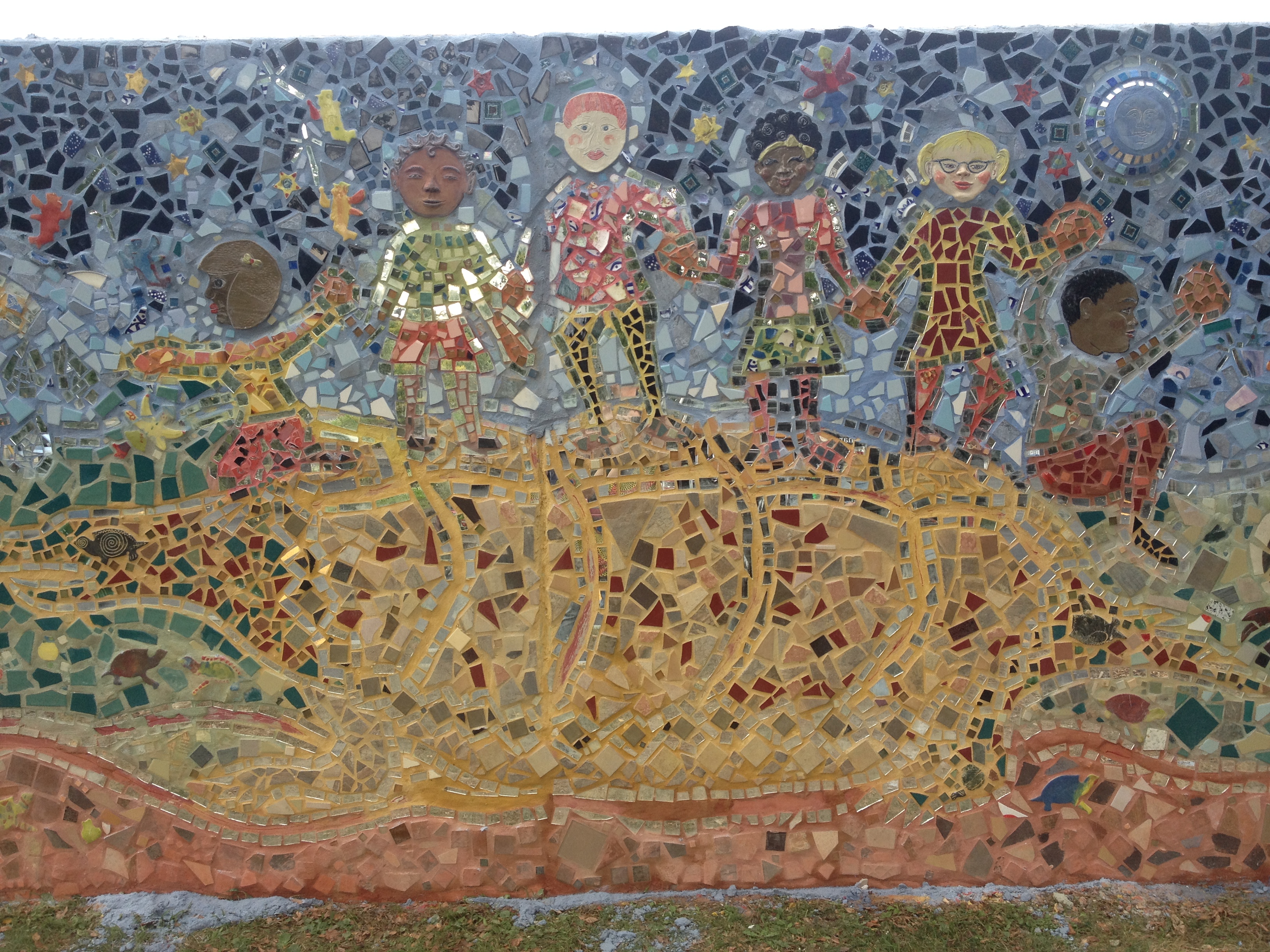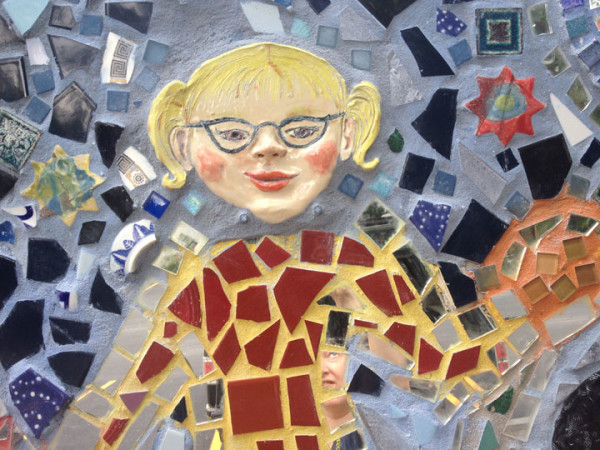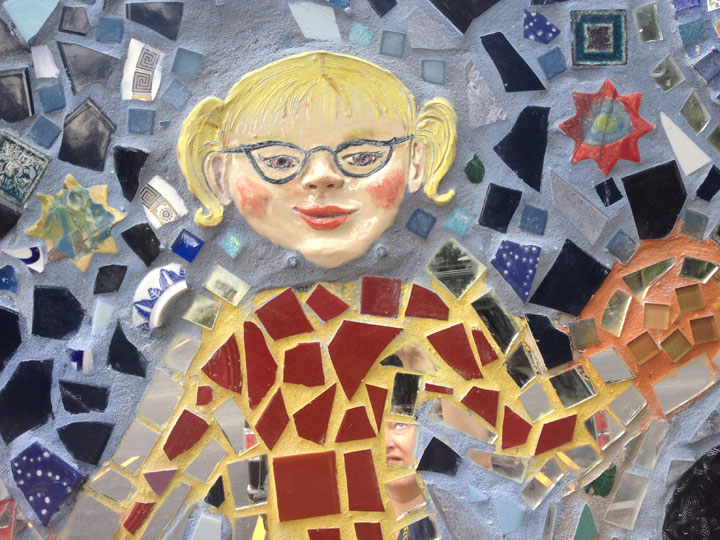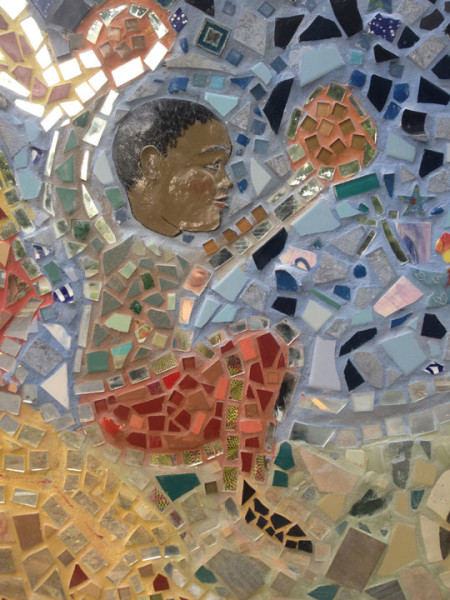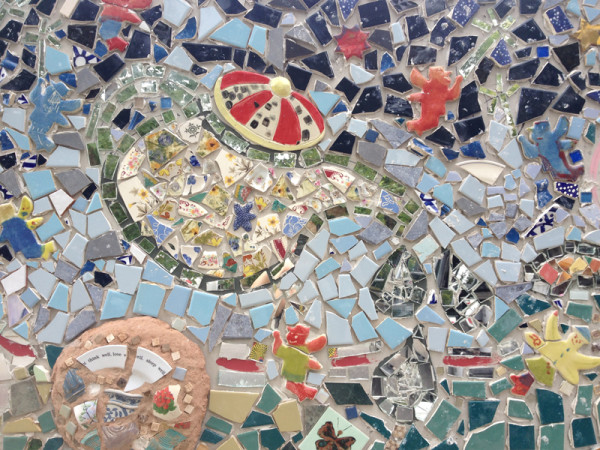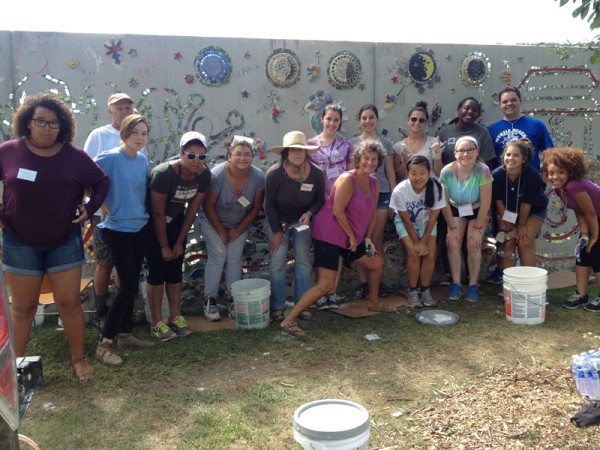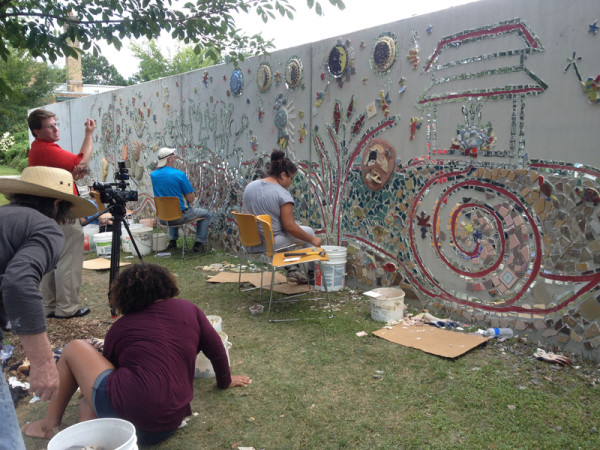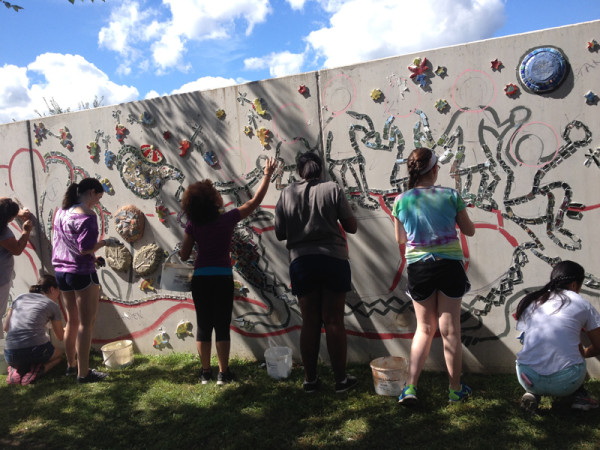 We did a 2 day community build installation in late August. Here's some snaps of the fun! This is the 2nd year of an ongoing community built, artist led and organized, mosaic mural (now about 70′ long!), on the wall of the DPW facility, facing the Sciencenter parking lot (and Rt. 13) in Ithaca, NY. Volunteers pictured here are part of Ithaca College's Community Plunge program. We were also lucky to have several local high school students, hired as apprentices, through the Ithaca Youth Bureau's summer employment program.
This year we teamed up with the Ithaca Children's Garden, that is celebrating the 10 year anniversary of their Gaia snapping turtle sculptural installation. ICG summer campers (Ithaca area kids ages 6 to 10 years old) brainstormed the design and created turtle and fairy tiles based on their plan. Much of the Children's Garden is represented in this latest panel of the mural. The outdoor kitchen is shown as a building housing a big steaming bowl over a fire. The bulb labyrinth is shown as a big spiral path. The phases of the moon appear over Gaia and six children that ride her back. To the left, a fabulous teapot pours out an herbal brew, from the Children's garden. And last, a chicken on a nest full of eggs, under a fruit tree.
Please stop by and enjoy if you are in Ithaca. And stay in touch though our FaceBook page.
Posted in Recent Projects | Tagged art, City of Ithaca, clay, collaboration, collage, community, Community build, DPW, Gaia, Gaia's garden, Isaiah Zagar method, Ithaca, Ithaca Children's Garden, mural, NY, public art, Science Center, Sciencenter, tiles, volunteer, Youth | Leave a response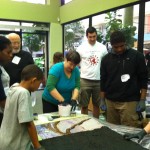 By zwackart on May 11, 2012
Thank you "Ithaca is Community" volunteers!
A city wide day of volunteering was inaugurated this year by Ithaca's new mayor, Svante Myrick, on a rainy Earth Day. On the Commons, in Ithaca, a fantastic team of  volunteers gathered and helped me grout one of the panels of the "Spirit of Ithaca", the public art mosaic I've been working on since last summer. I plan to have it installed this summer on the exterior wall of the parking garage at the corner of Tioga and Seneca Streets.
Posted in Recent Projects | Tagged art, community, Earth Day, Ithaca, mosaic, mural, New York, public art, tile, volunteer | Leave a response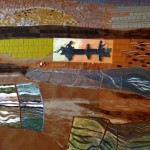 By zwackart on March 2, 2012

Great news! The City of Ithaca is going to foot the bill for a stainless steel frame for the mosaic, and provide skilled workers to install it. I am SO grateful. I finished sculpting the last tiles out of raw clay and am firing them this weekend. Tim Merick has the panels completed and ready to deliver. Earthday weekend is a big volunteer weekend with an event hosted by Ithaca's mayor at the Youth Bureau. I am getting the work ready so that I can get the community's help grouting the whole thing!
Posted in Recent Projects | Tagged Earth Day, Ithaca, mayor of Ithaca, mosaic, sculpture, tiles, volunteer | 1 Response