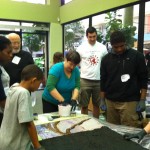 By zwackart on May 11, 2012
Thank you "Ithaca is Community" volunteers!
A city wide day of volunteering was inaugurated this year by Ithaca's new mayor, Svante Myrick, on a rainy Earth Day. On the Commons, in Ithaca, a fantastic team of  volunteers gathered and helped me grout one of the panels of the "Spirit of Ithaca", the public art mosaic I've been working on since last summer. I plan to have it installed this summer on the exterior wall of the parking garage at the corner of Tioga and Seneca Streets.
Posted in Recent Projects | Tagged art, community, Earth Day, Ithaca, mosaic, mural, New York, public art, tile, volunteer | Leave a response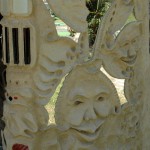 By zwackart on March 3, 2011
I am so grateful to have gotten to visit New Zealand and stay with Kiwis! One distinct advantage is that not only did our host in the far north, Peter Visser, know the region and what would be interesting to see and do, he knew the people! It was our very good luck that he knew Darge Sumner personally and called her up and asked if it would be OK for us to pay her and her amazing home a visit. She welcomed us with open arms! Here's a glimpse of her amazing space.
When Darge was in her mid 60s she decided to totally change her living space and, along with her son, developed a new combination of concrete, clay, and recycled wet newspaper that allows for amazing sculptural possibilities and lends itself particularly well to creating mosaics!
Posted in Inspiration | Tagged concrete, meet the artist, mosaic, New Zealand, sculpture, tile, tiles, tour, travel | Leave a response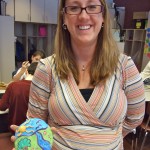 By zwackart on February 8, 2011
This is the third year in a row that I have had the privilege of being the artist in residence for the Chemung River School Project. Each year, naturalists and a poet visit with fourth graders. They get to go to the Arnot Art Museum, the History Center, and the Tanglewood Nature Center as part of a cross disciplinary study of the Chemung River that flows through Elmira, NY. This year, in what we hope is a pilot for a larger public art mosaic project, like we did in Ithaca in 2010, students made clay tiles out of raw clay using low relief sculptural techniques to describe their experience of the river. Here are some pictures of the process. There were seven classes from three schools that participated.
Posted in In the Classroom | Tagged Arnot Art Museum, BOCES, clay, cross disciplinary, painting, school, sculpting, tile, tiles | Leave a response