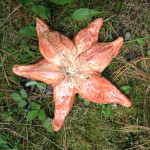 By zwackart on May 25, 2014
Hi there mosaic fans, food security activists, artists, and community members. Here are the tiles you sculpted and glazed! They have been fired twice and are ready to be installed on the wall of the DPW facility on 1st St. in Ithaca, NY, as part of the 1st St. Mosaic Project, right across from the Sciencenter. Nice work!
Posted in News & Events | Tagged 1st St Mosaic, art, ceramic, community, food security, Ithaca, mosaic, New York, public art, science, Sciencenter, tiles, wild edibles | Leave a response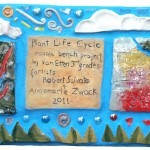 By zwackart on September 30, 2012
Please join the Van Etten Elementary School community to celebrate the completion and installation of these two mosaic benches depicting the life cycle of plants. They were made possible in part by a grant from the New York State Council for the Arts, administered locally by the ARTS of the Southern Finger Lakes. We will hold a dedication ceremony Monday October 17th from 5:50 to 6pm at the playground to recognize the creative success of student and community artists, and Van Etten teachers and staff.
Posted in In the Classroom, Recent Projects | Tagged art, arts, arts in education, collaboration, education, grant, life cycle, local, mosaic, New York, NY, plant, public school, school, science | Leave a response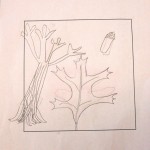 By zwackart on April 15, 2011
This past Wednesday, I met with four classes of third graders at Van Etten elementary school in Van Etten, New York. We talked about the fact that both scientists and artists need to use their skills of observation in their work. We used pencil, colored pencil, and crayons to draw plant specimen that the students had brought in from home. These will be the designs for the clay tiles that they will be sculpting next Wednesday.
This project was made possible in part through a Local Capacity Building Grant administered by The ARTS Council of the Southern Finger Lakes.
Posted in In the Classroom | Tagged art, arts in education, drawing, education, grant, kids, mosaic, plants, school, science | 1 Response