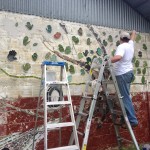 By zwackart on August 14, 2016
It's been steamy this summer! And this wall faces south. But we pitched a sun/rain sail and finished setting the tiles, and started in on grouting in sections.The photos are a real fast forward of the process. We had lots of volunteers come out to work, over several weekends this summer. People worked hard in all weather conditions to see this beautiful collective vision through! I am honored to shepherd it into reality.
This coming Thursday is our next build date. Come on down!
Rawley Park, Richford, NY 13835 5pm till dark
Hey it's a full moon…who knows!
Posted in Recent Projects | Tagged animal mosaic, Arts of the Southern Finger Lakes, community, Community build, fox, grant, grout, mosaic, NY, owl in tree, potatoe, rainbow, Rawley Park, red tail hawk, Richford, tile, tire swing, trout | Leave a response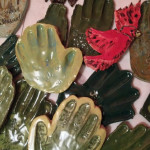 By zwackart on April 29, 2016
Two Saturdays in April, one snowy, one warm, the good towns-folk of Richford and I met in the Town Hall to make and paint tiles for the mosaic we will be putting up in May. Here are a few of the beautiful tiles that were made. If you are reading this before 5/22/2016 and would like to participate, feel free to contact me for more details.
Posted in Recent Projects | Tagged ceramic, community, Community build, Finger Lakes, glass, hand print, handmade, mirror, mosaic, mural, native species, NY, potatoe, public art, Richford, tile, trout, turkey, wild life | Leave a response