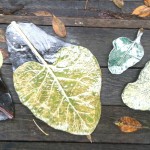 By zwackart on October 9, 2012
These high-fired ceramic leaves are made from impressions of real leaves, most of them Burdock leaves. Burdock is a "weed", with fierce burrs, but it's root is used to help the heart and cleanse the blood. Sometimes the veining pattern in the leaves reveals the image of a heart.
Posted in New in the Studio | Tagged art, ceramic, clay, leaf, plant, sculpture, tile | Leave a response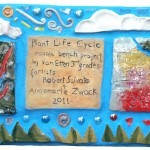 By zwackart on September 30, 2012
Please join the Van Etten Elementary School community to celebrate the completion and installation of these two mosaic benches depicting the life cycle of plants. They were made possible in part by a grant from the New York State Council for the Arts, administered locally by the ARTS of the Southern Finger Lakes. We will hold a dedication ceremony Monday October 17th from 5:50 to 6pm at the playground to recognize the creative success of student and community artists, and Van Etten teachers and staff.
Posted in In the Classroom, Recent Projects | Tagged art, arts, arts in education, collaboration, education, grant, life cycle, local, mosaic, New York, NY, plant, public school, school, science | Leave a response