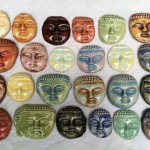 By zwackart on October 19, 2013
If you look very carefully, you may see the face of Buddha in the hills of Ithaca, in my mosaic Feels Like Home, on Tioga St. And perhaps you remember my Potential Buddhas series of paintings? Well, these days I am making Buddha faces, of many shapes and sizes, as ceramic tiles. They can be a tiny icon for your alter, a touchstone to keep in your pocket to remind you of your own true nature, or maybe the keystone in a the tile work you are doing on your back patio. However you choose to enjoy them, I hope they bring a little peace to all that see and touch them.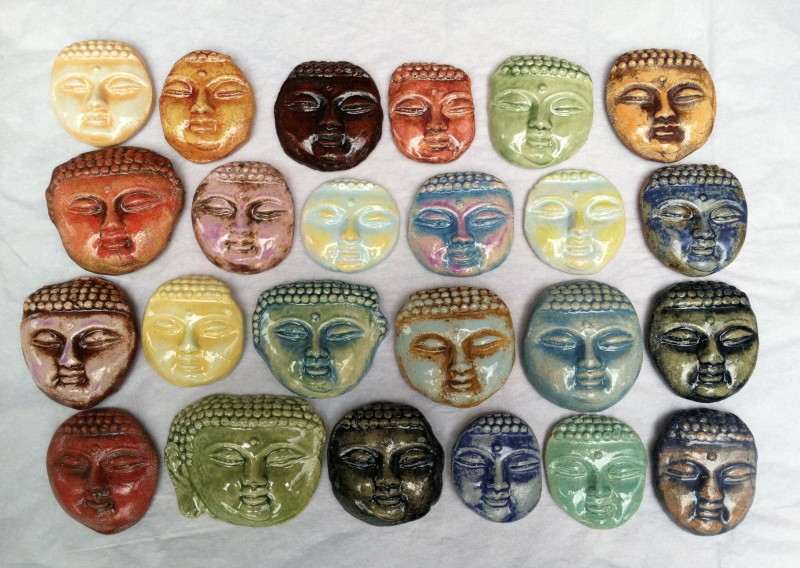 Posted in New in the Studio | Tagged Buddha, ceramic, face, interior design, Ithaca, mosaic, New York, tiles | 3 Responses
By zwackart on October 18, 2013
Posted in Inspiration | Tagged Finger Lakes, leaves, lichen, moss, nature, New York, photography, sky, trees | Leave a response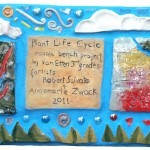 By zwackart on September 30, 2012
Please join the Van Etten Elementary School community to celebrate the completion and installation of these two mosaic benches depicting the life cycle of plants. They were made possible in part by a grant from the New York State Council for the Arts, administered locally by the ARTS of the Southern Finger Lakes. We will hold a dedication ceremony Monday October 17th from 5:50 to 6pm at the playground to recognize the creative success of student and community artists, and Van Etten teachers and staff.
Posted in In the Classroom, Recent Projects | Tagged art, arts, arts in education, collaboration, education, grant, life cycle, local, mosaic, New York, NY, plant, public school, school, science | Leave a response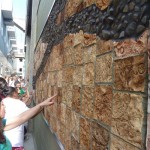 By zwackart on September 18, 2012
This Saturday in Ithaca the Food Justice Summit is happening and I will be there at the Watershed Wall to talk to folks as they do a Walkathon that winds it's way through downtown. I will also have a table at their street fair where you can come and make a food related tile. If you choose, you can leave your tile with me to be fired and it can become part of a community created mosaic! The Street Fair will be at 210 Hancock St. in Ithaca from noon to 6pm.
Posted in In the Classroom, Recent Projects | Tagged art, community, Food Justice, Ithaca, local food, mosaic, New York, NY, tile, walkathon, watershed | Leave a response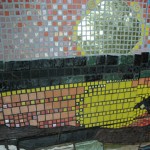 By zwackart on July 11, 2012
I am so excited to introduce "Feels Like Home" ~Spirit of Ithaca mosaic mural. These are photos of the completed work on the lawn behind my studio. It will soom hang on the Tioga Street side of the Seneca/Tioga parking garage in Ithaca, NY. Stay tuned for details about the official unveiling. And please come see in person. There is just SO much detail! This baby is 6′ x 13″!
Posted in Recent Projects | Tagged ceramic, City, Ithaca, mosaic, New York, public art, tile | 2 Responses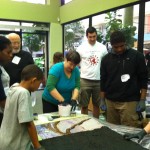 By zwackart on May 11, 2012
Thank you "Ithaca is Community" volunteers!
A city wide day of volunteering was inaugurated this year by Ithaca's new mayor, Svante Myrick, on a rainy Earth Day. On the Commons, in Ithaca, a fantastic team of  volunteers gathered and helped me grout one of the panels of the "Spirit of Ithaca", the public art mosaic I've been working on since last summer. I plan to have it installed this summer on the exterior wall of the parking garage at the corner of Tioga and Seneca Streets.
Posted in Recent Projects | Tagged art, community, Earth Day, Ithaca, mosaic, mural, New York, public art, tile, volunteer | Leave a response
By zwackart on August 14, 2011
Spirit of Ithaca Mosaic
Back in January, the Community Arts Partnership of Tompkins County, New York and The City of Ithaca Public Arts Commission put out a call for design submissions for a mural on a parking garage at Tioga and Seneca Streets, in Ithaca. They were applying for a grant that's deadline was quickly approaching. Based on the commission's suggestions of themes, and my own ideas about what is important in life and how I see Ithaca, I pulled some photos together in a collage in Photoshop, created a budget, and submitted it. In March or so, I heard back that I had been chosen as their artist and now we would wait to hear if we received the grant monies. In early August, I heard from City of Ithaca Common Councilor, and member of the public art commission, Edward Rooker saying that "Yes! We had gotten the grant" and could proceed. During the time I had to muse on this project, my heart settled on the idea that instead of using paint I would like to try making this mural out of mosaics. Last summer I purchased an electric kiln. I have gotten more confident in firing it & I feel that I now have the tools at my command to be able to do a ceramic mosaic of my own design, creating many (most?) of the tiles I will use by hand. I am really excited to do this! First, I needed to create a scale drawing. The space I will use measures 6′ x 13′. Next, I made a pilgrimage to Susan Jablon Mosaics in Vestal, NY. Emily Jablon, Susan's daughter, & a mosaic artist who has done many public art installations, was there and was very generous in her donation of materials. I came back to my studio, absolutely thrilled!, and set the glass tiles from Jablon out on the scale drawing. This helped me wrap my mind around how many square feet (out of 78) I would need to construct by hand from clay. Next, I headed over to my friend and fellow artist Deb Youngling's house to roll out some slabs from a heavy grog, high fire, white clay body. Here are some examples of the tiles I've been making.
Posted in New in the Studio | Tagged art, arts, collage, drawing, grants, in the studio, Ithaca, mosaic, mural, New York, NY, photoshop, public art, scale | Leave a response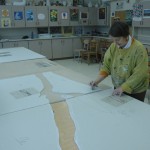 By zwackart on October 22, 2010
All ten schools in the Ithaca City School District participated in making this ceramic tile mosaic mural. The Ithaca Fine Arts Booster Group and the Ithaca Public Education Initiative generously sponsored the project and the City of Ithaca supported it as well. The mosaic is an image of the Ithaca area watershed with the smooth dark pebbles representing Cayuga Lake inlet and the tributary creeks that flow into it. Students made the tiles that represent the land masses from slabs of clay carefully cut out to create a map.
Posted in Recent Projects | Tagged Cayuga, clay, community, Ithaca, mosaic, mural, New York, public art, watershed | 2 Responses