By zwackart on October 8, 2016
I find inspiration and rejuvenation in the incredible natural beauty of the Finger Lakes region of New York, where I live. Here are some photos from a recent trip to Robert H. Treman State Park. Many of the paths leading through this awesome geological formation are impressive examples of human labor that use the vocabulary of the landscape. Stone bridges, walkways, and stairs lead a visitor to stunning views, and serve as a reminder that humans have been appreciating this particular waterway for quite some time, and have gone to great lengths to help others enjoy it too. I am grateful for the opportunity to walk these paths, and the chance to share their beauty. Happy Autumn!
Posted in Inspiration | Tagged Finger Lakes, gorges, Ithaca, light, nature, New York, NY, Treman, water, waterfall | Leave a response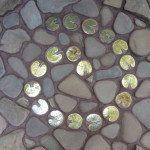 By zwackart on May 26, 2014
This summer, I decided to make an outdoor shower. This mosaic was soon to follow. The river rocks are smooth and pleasing to the touch, and their understated colors allow the green of the ceramic tile leaves to really stand out. These natural shapes, colors, and textures blend well with the woodland setting of the shower and the other materials from which it is made.
Posted in New in the Studio | Tagged Andrew Goldsworthy, art, ceramic, decor, home, home improvement, leaf, leaves, mosaic, nature, outdoor shower, pebbles, river rocks, spiral, stone, tile | Leave a response
By zwackart on October 18, 2013
Posted in Inspiration | Tagged Finger Lakes, leaves, lichen, moss, nature, New York, photography, sky, trees | Leave a response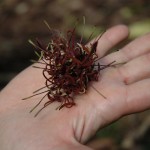 By zwackart on December 29, 2010
Fairy Hut Building at the Natural Phenomena Conference in Whangerei, NZ was fantastic! The whole conference took place outdoors and was dedicated to nature education for early childhood in New Zealand.
I lead a workshop with about 20 participants, most of whom were early childhood educators, in creating ephemeral, environmental installations, or FAIRY HUTS! The materials that were right at our feet were blossoms from the trees in the remarkable old growth forest, nuts, berries, fabulous mosses, fallen bark, twigs, and leaves, grasses and meadow flowers from the clearings, and even clay from down the hill in the creek.
Posted in In the Classroom | Tagged early childhood, education, faery huts, Fairy huts, kids, nature, New Zealand, Whangerei | 3 Responses