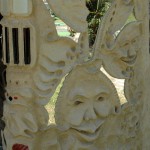 By zwackart on March 3, 2011
I am so grateful to have gotten to visit New Zealand and stay with Kiwis! One distinct advantage is that not only did our host in the far north, Peter Visser, know the region and what would be interesting to see and do, he knew the people! It was our very good luck that he knew Darge Sumner personally and called her up and asked if it would be OK for us to pay her and her amazing home a visit. She welcomed us with open arms! Here's a glimpse of her amazing space.
When Darge was in her mid 60s she decided to totally change her living space and, along with her son, developed a new combination of concrete, clay, and recycled wet newspaper that allows for amazing sculptural possibilities and lends itself particularly well to creating mosaics!
Posted in Inspiration | Tagged concrete, meet the artist, mosaic, New Zealand, sculpture, tile, tiles, tour, travel | Leave a response