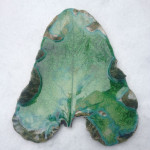 By zwackart on February 10, 2015
I have been experimenting with melting glass onto my ceramic work. Here is a fun example! The base tile is a high fire ceramic sculpture with a Burdock leaf imprint on it. It has been glazed several times, but I was looking for further richness of color. I am pretty happy with the results.
Posted in New in the Studio | Tagged bottle, burdock, ceramic, glass, glaze, leaf, mold, re-use, recycle, sculpture, tile, up-cycle | 1 Response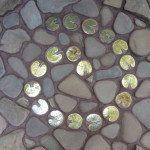 By zwackart on May 26, 2014
This summer, I decided to make an outdoor shower. This mosaic was soon to follow. The river rocks are smooth and pleasing to the touch, and their understated colors allow the green of the ceramic tile leaves to really stand out. These natural shapes, colors, and textures blend well with the woodland setting of the shower and the other materials from which it is made.
Posted in New in the Studio | Tagged Andrew Goldsworthy, art, ceramic, decor, home, home improvement, leaf, leaves, mosaic, nature, outdoor shower, pebbles, river rocks, spiral, stone, tile | Leave a response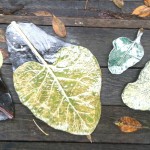 By zwackart on October 9, 2012
These high-fired ceramic leaves are made from impressions of real leaves, most of them Burdock leaves. Burdock is a "weed", with fierce burrs, but it's root is used to help the heart and cleanse the blood. Sometimes the veining pattern in the leaves reveals the image of a heart.
Posted in New in the Studio | Tagged art, ceramic, clay, leaf, plant, sculpture, tile | Leave a response