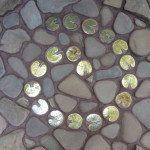 By zwackart on May 26, 2014
This summer, I decided to make an outdoor shower. This mosaic was soon to follow. The river rocks are smooth and pleasing to the touch, and their understated colors allow the green of the ceramic tile leaves to really stand out. These natural shapes, colors, and textures blend well with the woodland setting of the shower and the other materials from which it is made.
Posted in New in the Studio | Tagged Andrew Goldsworthy, art, ceramic, decor, home, home improvement, leaf, leaves, mosaic, nature, outdoor shower, pebbles, river rocks, spiral, stone, tile | Leave a response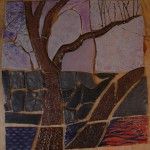 By zwackart on October 4, 2011
Glazed ceramic tile, fresh out of the kiln at Zwackart studios. Latest installment of work on public art mosaic mural to be installed in Ithaca, NY in Spring of 2012.
Posted in Recent Projects | Tagged art, glaze, grant, home, Ithaca, NY, public art, studio, tiles | 1 Response