By zwackart on September 28, 2016
I am so grateful to work with a wonderful team of artists on the 1st St. Mosaic project in Ithaca, NY! 2016 is our third year installing community made mosaic art on the wall of the Ithaca City Department of Public Works wall in the Sciencenter parking lot. And, yes, this year we wrapped around the corner! The mosaic can now be seen adorning the Franklin St. side of the DPW facility. Check out the progression of the project, including many more photos of the completed work on my public art page (under the Community Art tab), or just click here.
Posted in News & Events | Tagged 1st St Mosaic, artist collective, community, Community build, farm, food security, handmade, Ithaca, livestock, mirror, mosaic, New York, NY, public art, Sciencenter, tile | Leave a response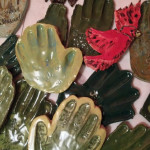 By zwackart on April 29, 2016
Two Saturdays in April, one snowy, one warm, the good towns-folk of Richford and I met in the Town Hall to make and paint tiles for the mosaic we will be putting up in May. Here are a few of the beautiful tiles that were made. If you are reading this before 5/22/2016 and would like to participate, feel free to contact me for more details.
Posted in Recent Projects | Tagged ceramic, community, Community build, Finger Lakes, glass, hand print, handmade, mirror, mosaic, mural, native species, NY, potatoe, public art, Richford, tile, trout, turkey, wild life | Leave a response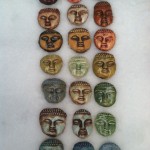 By zwackart on December 4, 2013
Posted in New in the Studio | Tagged art, bird, Buddha, ceramic, custom tiles, Guan Yin, handmade, Kuan Yin, Quan Yin, tiles | Leave a response