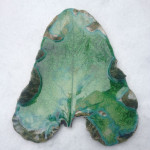 By zwackart on February 10, 2015
I have been experimenting with melting glass onto my ceramic work. Here is a fun example! The base tile is a high fire ceramic sculpture with a Burdock leaf imprint on it. It has been glazed several times, but I was looking for further richness of color. I am pretty happy with the results.
Posted in New in the Studio | Tagged bottle, burdock, ceramic, glass, glaze, leaf, mold, re-use, recycle, sculpture, tile, up-cycle | 1 Response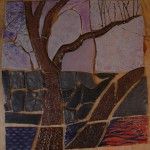 By zwackart on October 4, 2011
Glazed ceramic tile, fresh out of the kiln at Zwackart studios. Latest installment of work on public art mosaic mural to be installed in Ithaca, NY in Spring of 2012.
Posted in Recent Projects | Tagged art, glaze, grant, home, Ithaca, NY, public art, studio, tiles | 1 Response