By zwackart on October 8, 2016
I find inspiration and rejuvenation in the incredible natural beauty of the Finger Lakes region of New York, where I live. Here are some photos from a recent trip to Robert H. Treman State Park. Many of the paths leading through this awesome geological formation are impressive examples of human labor that use the vocabulary of the landscape. Stone bridges, walkways, and stairs lead a visitor to stunning views, and serve as a reminder that humans have been appreciating this particular waterway for quite some time, and have gone to great lengths to help others enjoy it too. I am grateful for the opportunity to walk these paths, and the chance to share their beauty. Happy Autumn!
Posted in Inspiration | Tagged Finger Lakes, gorges, Ithaca, light, nature, New York, NY, Treman, water, waterfall | Leave a response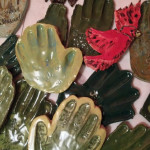 By zwackart on April 29, 2016
Two Saturdays in April, one snowy, one warm, the good towns-folk of Richford and I met in the Town Hall to make and paint tiles for the mosaic we will be putting up in May. Here are a few of the beautiful tiles that were made. If you are reading this before 5/22/2016 and would like to participate, feel free to contact me for more details.
Posted in Recent Projects | Tagged ceramic, community, Community build, Finger Lakes, glass, hand print, handmade, mirror, mosaic, mural, native species, NY, potatoe, public art, Richford, tile, trout, turkey, wild life | Leave a response
By zwackart on October 18, 2013
Posted in Inspiration | Tagged Finger Lakes, leaves, lichen, moss, nature, New York, photography, sky, trees | Leave a response