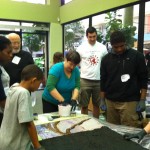 By zwackart on May 11, 2012
Thank you "Ithaca is Community" volunteers!
A city wide day of volunteering was inaugurated this year by Ithaca's new mayor, Svante Myrick, on a rainy Earth Day. On the Commons, in Ithaca, a fantastic team of  volunteers gathered and helped me grout one of the panels of the "Spirit of Ithaca", the public art mosaic I've been working on since last summer. I plan to have it installed this summer on the exterior wall of the parking garage at the corner of Tioga and Seneca Streets.
Posted in Recent Projects | Tagged art, community, Earth Day, Ithaca, mosaic, mural, New York, public art, tile, volunteer | Leave a response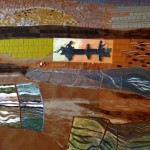 By zwackart on March 2, 2012

Great news! The City of Ithaca is going to foot the bill for a stainless steel frame for the mosaic, and provide skilled workers to install it. I am SO grateful. I finished sculpting the last tiles out of raw clay and am firing them this weekend. Tim Merick has the panels completed and ready to deliver. Earthday weekend is a big volunteer weekend with an event hosted by Ithaca's mayor at the Youth Bureau. I am getting the work ready so that I can get the community's help grouting the whole thing!
Posted in Recent Projects | Tagged Earth Day, Ithaca, mayor of Ithaca, mosaic, sculpture, tiles, volunteer | 1 Response