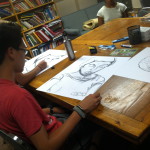 By zwackart on July 2, 2014
This is my third year teaching art classes to the students in the Cornell Upward Bound program. Today we worked on figure drawing and some portraiture, in charcoal on large format paper, with a model.
And the model is a young woman who took private art lessons from me when she was 7, and now she is 19! She is just home from her first year of college. I recognized her at the grocery store and struck up a conversation. Turns out she is still into art! Yay!!
A very positive experience all around!
Posted in In the Classroom | Tagged art, charcoal, college prep, Cornell, drawing, figure drawing, Ithaca, life drawing, New York, NY, portrait, sketch, students, Upward Bound | Leave a response
By zwackart on August 14, 2011
Spirit of Ithaca Mosaic
Back in January, the Community Arts Partnership of Tompkins County, New York and The City of Ithaca Public Arts Commission put out a call for design submissions for a mural on a parking garage at Tioga and Seneca Streets, in Ithaca. They were applying for a grant that's deadline was quickly approaching. Based on the commission's suggestions of themes, and my own ideas about what is important in life and how I see Ithaca, I pulled some photos together in a collage in Photoshop, created a budget, and submitted it. In March or so, I heard back that I had been chosen as their artist and now we would wait to hear if we received the grant monies. In early August, I heard from City of Ithaca Common Councilor, and member of the public art commission, Edward Rooker saying that "Yes! We had gotten the grant" and could proceed. During the time I had to muse on this project, my heart settled on the idea that instead of using paint I would like to try making this mural out of mosaics. Last summer I purchased an electric kiln. I have gotten more confident in firing it & I feel that I now have the tools at my command to be able to do a ceramic mosaic of my own design, creating many (most?) of the tiles I will use by hand. I am really excited to do this! First, I needed to create a scale drawing. The space I will use measures 6′ x 13′. Next, I made a pilgrimage to Susan Jablon Mosaics in Vestal, NY. Emily Jablon, Susan's daughter, & a mosaic artist who has done many public art installations, was there and was very generous in her donation of materials. I came back to my studio, absolutely thrilled!, and set the glass tiles from Jablon out on the scale drawing. This helped me wrap my mind around how many square feet (out of 78) I would need to construct by hand from clay. Next, I headed over to my friend and fellow artist Deb Youngling's house to roll out some slabs from a heavy grog, high fire, white clay body. Here are some examples of the tiles I've been making.
Posted in New in the Studio | Tagged art, arts, collage, drawing, grants, in the studio, Ithaca, mosaic, mural, New York, NY, photoshop, public art, scale | Leave a response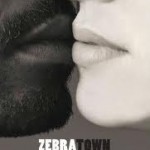 By zwackart on May 24, 2011
This is the second year in a row that I have had the privilege of working with students at the Elmira Alternative High School on an arts in education project where they read a book and use it as a point of departure for their own poetry and visual art. This year the book they have been reading is the intense true story of Kevin Davis called Zebratown. It is written by Greg Donaldson and set mostly in Elmira, New York. Elmira is home to a maximum security prison that houses inmates from all over New York state. From the prison, Kevin Davis looks down on the town of Elmira and thinks it looks peaceful and imagines living there in freedom one day. Eventually he does. Zebratown focuses on a part of his life where he moves in with a white single mom and their struggle to make their lives and relationship work.
The book was hugely engaging and I read it in three days. But when I finished, I felt thoroughly depressed. I sat down and started making notes about the values of the main characters in the story, making thumbnail sketches to represent these values and try to make sense of this work of tragedy. I was thinking about representing a person by showing the layers of experience, the goals, dreams and values, as well as an image of their physical presence; a personal palimpsest. When I met with students on the first day, I asked them to make some simple sketches of their values and I gave a lesson in drawing faces using charcoal. Later we would combine these images using paint on canvas.
Posted in In the Classroom | Tagged alternative, arts in education, drawing, Elmira, grant, Greg Donaldson, high school, NY, painting, Zebratown | Leave a response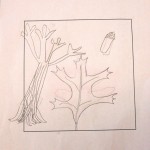 By zwackart on April 15, 2011
This past Wednesday, I met with four classes of third graders at Van Etten elementary school in Van Etten, New York. We talked about the fact that both scientists and artists need to use their skills of observation in their work. We used pencil, colored pencil, and crayons to draw plant specimen that the students had brought in from home. These will be the designs for the clay tiles that they will be sculpting next Wednesday.
This project was made possible in part through a Local Capacity Building Grant administered by The ARTS Council of the Southern Finger Lakes.
Posted in In the Classroom | Tagged art, arts in education, drawing, education, grant, kids, mosaic, plants, school, science | 1 Response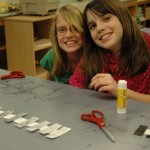 By zwackart on March 3, 2011
As you may have noticed on the calendar, I've been teaching a drawing class at the local Middle School after school. I was inspired by the snowy landscape here in rural central New York state. Sometimes the skies are much darker than the earth all covered in snow. The bright white of snowy ground is emitting more light than the sky itself! Perfect to draw in charcoal. I love how charcoal smudges. It can be intensely dark or sublimely faint and subtle. Charcoal is as old as fire, and is a completely non-toxic art material. Our first class together I had students make gradations from the lightest marks they could make to the deepest dark they could muster with many smoothly blended steps in between. They then cut these up and made the value matching tool you see in the pictures. They observed the landscape outside their school and made these sketches.
Posted in In the Classroom | Tagged afterschool, art, arts education, charcoal, classes, drawing, kids, landscape, PAVE, public school, school, snow | Leave a response