By zwackart on April 3, 2014
Posted in News & Events | Tagged 1st St. Mosaic Project, art, ceramic tiles, community, Community build, education, foraging, Ithaca, New York, NY, public art, Science Center, Sciencenter, tile making, wild edibles | Leave a response
By zwackart on October 19, 2013
I am working with a team of artists and we are planning a community built mosaic for a wall of the DPW waste water facility on 1st St. in Ithaca, NY. The site is right across the street from the Sciencecenter. We are using the method that Isaiah Zagar, of Philadelphia, uses. We have written a few grants and are planning to hold tile making workshops in the Northside neighborhood, work with 6th graders at Boynton Middle School, and have an installation event in August of 2014. We have a Facebook page set up so you can keep up on the latest info as we set dates for the workshops and let people know where, in the neighborhood, they will be held. We will also have a list of materials we are hoping to get donated and info about how and where to do that. Ithaca, and the Public Art Commission in particular, have really done a fantastic job of identifying walls and spaces for public art. I am really excited about this project because it will be one of the first opportunities for the community to be involved in the making of the art that will create the sense of place where they live.
Posted in News & Events | Tagged art, ceramic, community, Ithaca, mosaic, neighborhood, New York, public art, tiles | Leave a response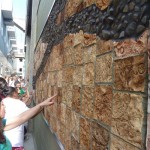 By zwackart on September 18, 2012
This Saturday in Ithaca the Food Justice Summit is happening and I will be there at the Watershed Wall to talk to folks as they do a Walkathon that winds it's way through downtown. I will also have a table at their street fair where you can come and make a food related tile. If you choose, you can leave your tile with me to be fired and it can become part of a community created mosaic! The Street Fair will be at 210 Hancock St. in Ithaca from noon to 6pm.
Posted in In the Classroom, Recent Projects | Tagged art, community, Food Justice, Ithaca, local food, mosaic, New York, NY, tile, walkathon, watershed | Leave a response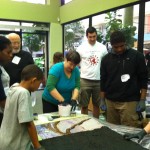 By zwackart on May 11, 2012
Thank you "Ithaca is Community" volunteers!
A city wide day of volunteering was inaugurated this year by Ithaca's new mayor, Svante Myrick, on a rainy Earth Day. On the Commons, in Ithaca, a fantastic team of  volunteers gathered and helped me grout one of the panels of the "Spirit of Ithaca", the public art mosaic I've been working on since last summer. I plan to have it installed this summer on the exterior wall of the parking garage at the corner of Tioga and Seneca Streets.
Posted in Recent Projects | Tagged art, community, Earth Day, Ithaca, mosaic, mural, New York, public art, tile, volunteer | Leave a response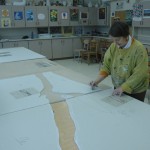 By zwackart on October 22, 2010
All ten schools in the Ithaca City School District participated in making this ceramic tile mosaic mural. The Ithaca Fine Arts Booster Group and the Ithaca Public Education Initiative generously sponsored the project and the City of Ithaca supported it as well. The mosaic is an image of the Ithaca area watershed with the smooth dark pebbles representing Cayuga Lake inlet and the tributary creeks that flow into it. Students made the tiles that represent the land masses from slabs of clay carefully cut out to create a map.
Posted in Recent Projects | Tagged Cayuga, clay, community, Ithaca, mosaic, mural, New York, public art, watershed | 2 Responses