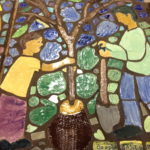 By zwackart on May 16, 2017
I have been working with Cayuga Heights Elementary School, in Ithaca NY, on a 4′ x 15′ mosaic mural inspired by the schools values of Community, Respect, Friendliness, Safety and Self Control, Determination, Cooperation, Resilience, and Peace Making. I worked with students to help them take these abstract ideas and turn them into visual images that communicate their meaning. Together with elementary art teacher, Sarah Mountin-Locke, I combined student sketches into an overall composition. Then, students from every grade in the school, made tiles from raw clay. Some made handprints. Some made faces, figures, and other components of the design. And many students made tiles of whatever they pleased! On the first 2 Saturdays in May, we assembled all these beautiful tiles to create the mosaic panels that will hang across from the cafeteria in their school. There will be a grand unveiling on June 9th at 5:30pm, and you are all welcome to attend. Here is a preview of the work.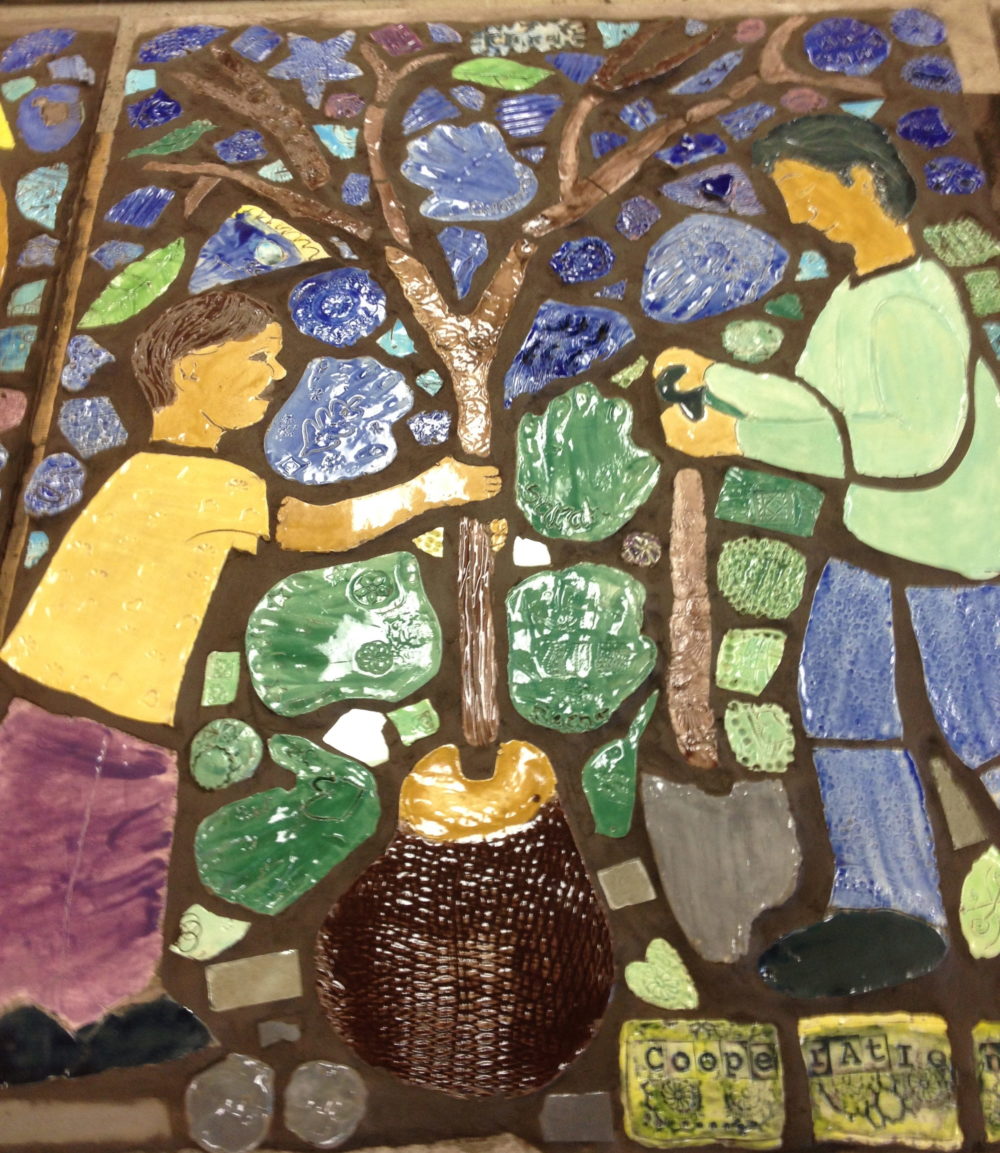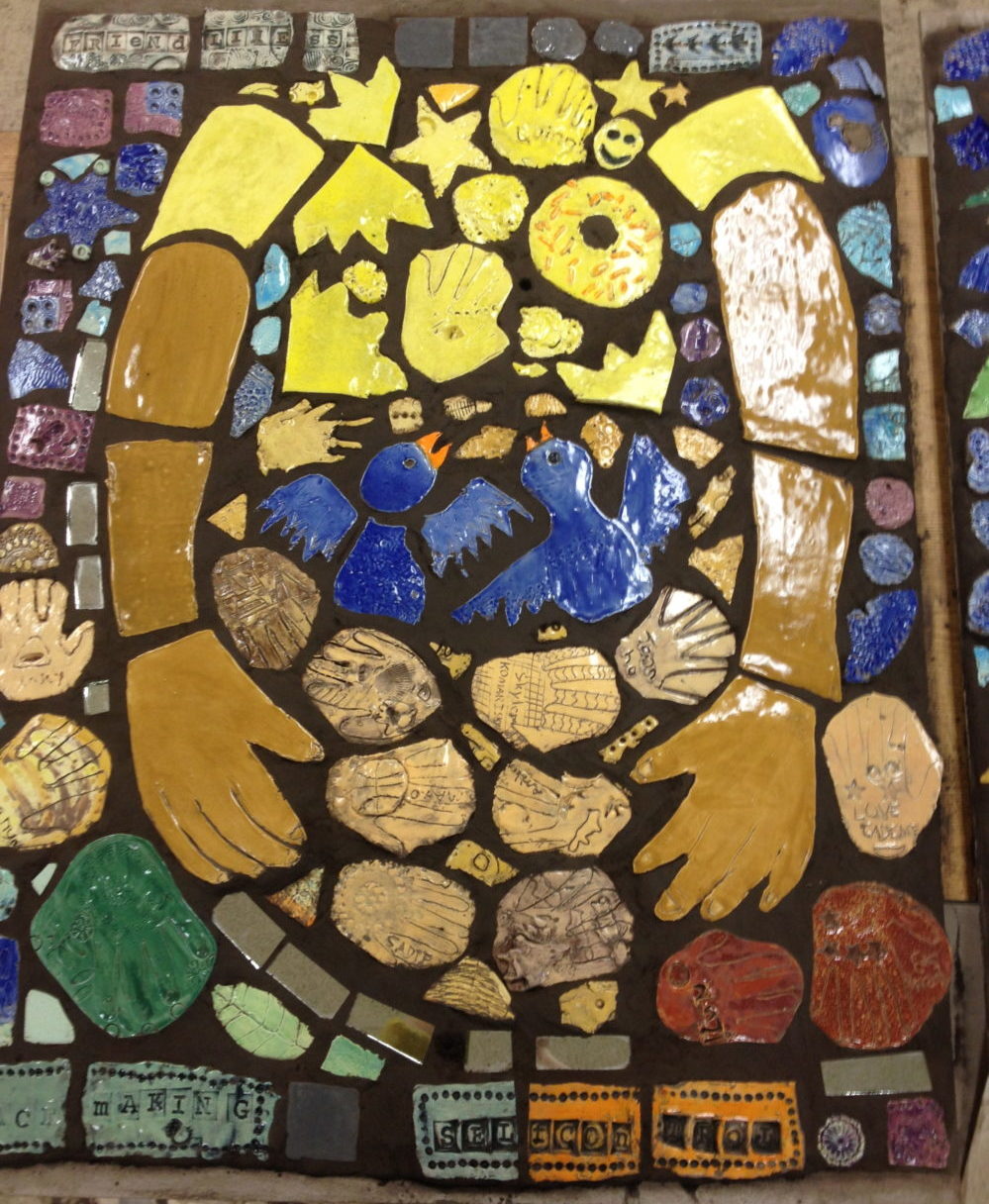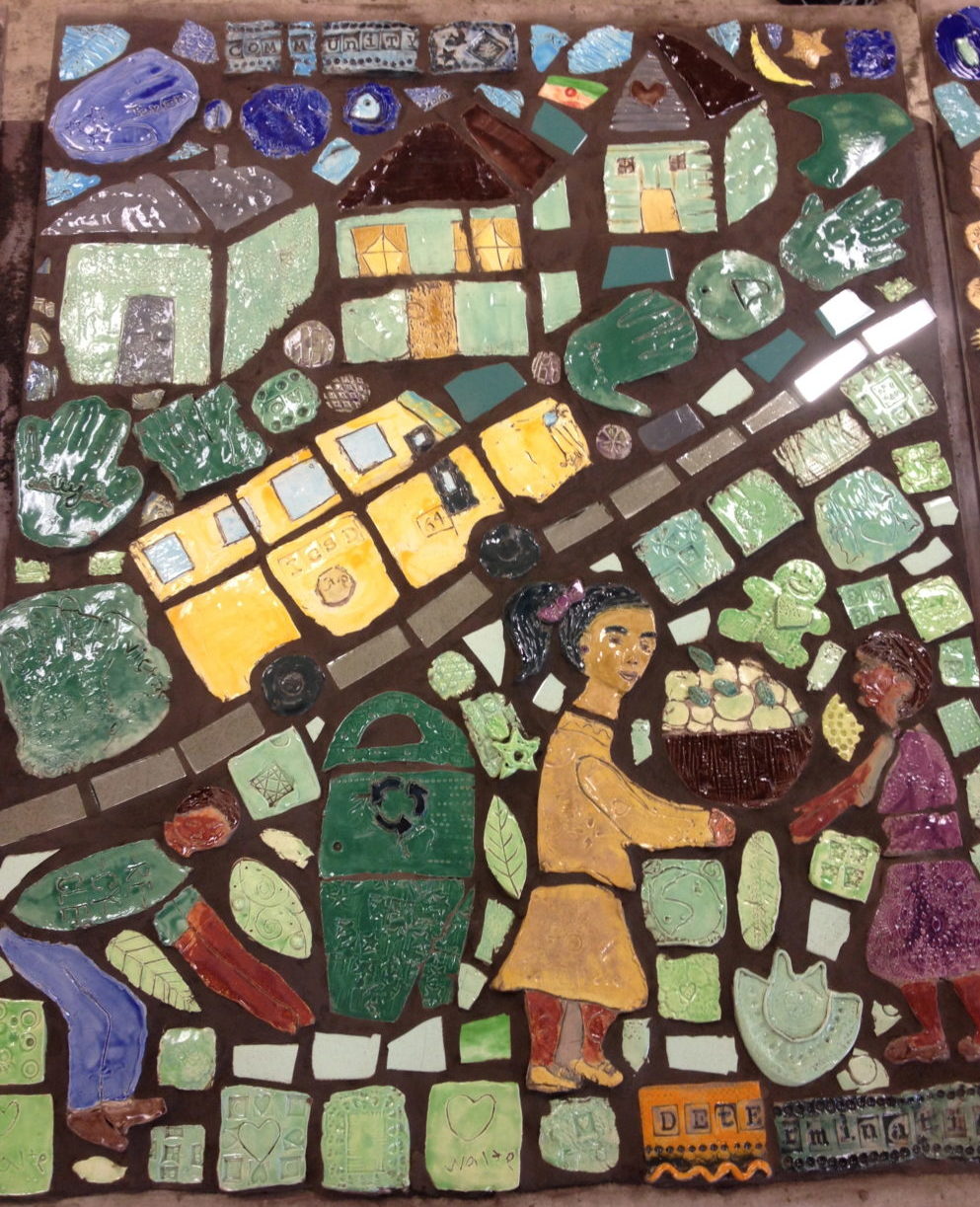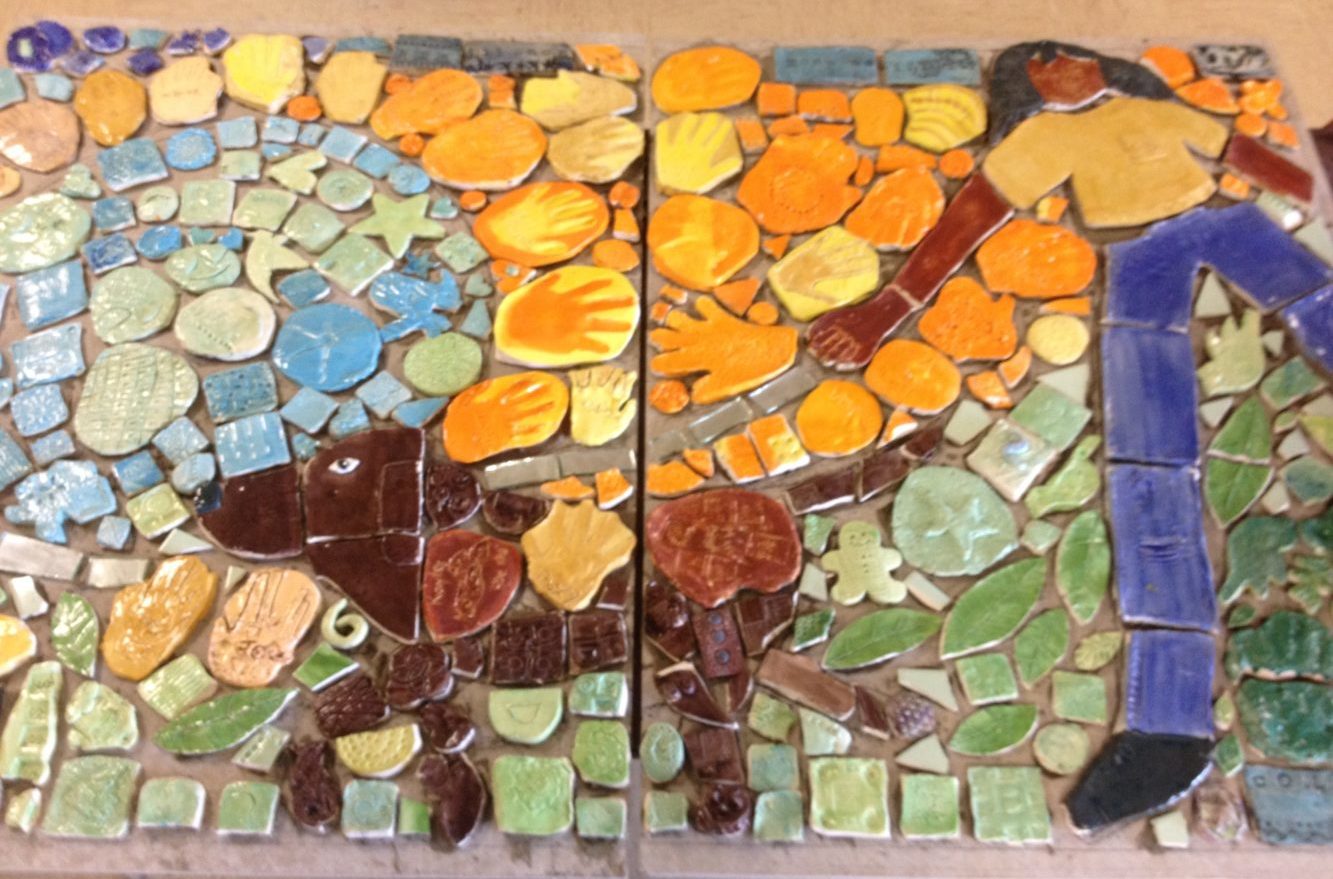 This project is made possible in part through grants from the Cayuga Heights Elementary School PTA, the Ithaca Public Education Initiative, and the Ithaca Fine Arts Booster Group. Thank you!
Posted in In the Classroom | Tagged art, clay, collaboration, community, Community build, Elementary school, hand print, handmade, Ithaca, mosaic, NY, peace making, public school, school, values | Leave a response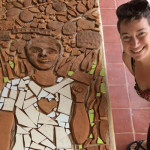 By zwackart on November 30, 2015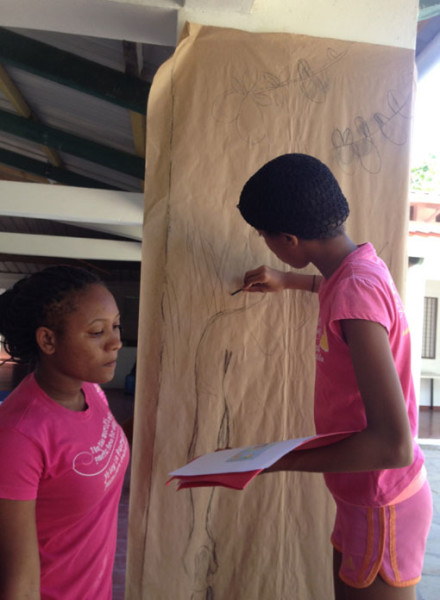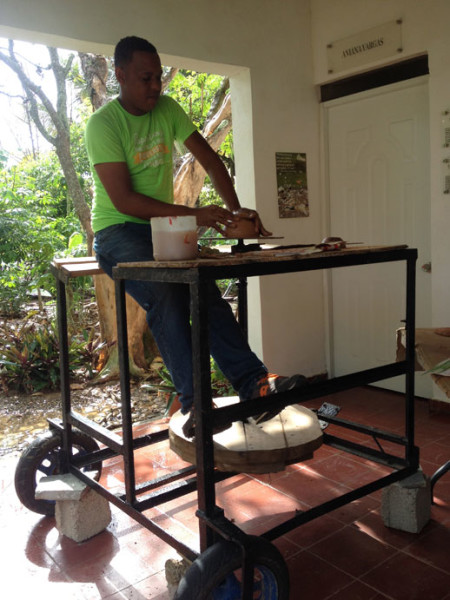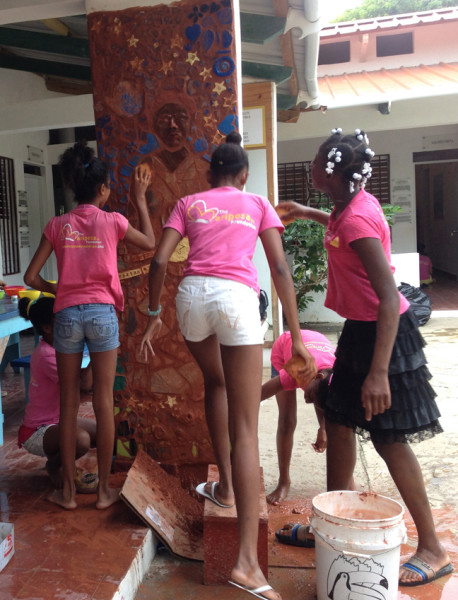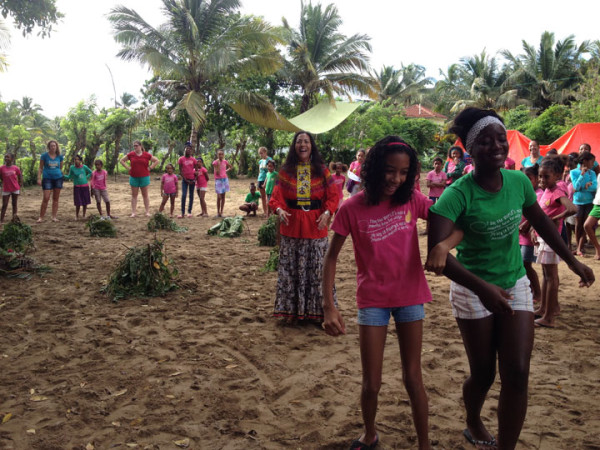 This November I had the incredible opportunity to work with girls at the Mariposa Foundation, DR. I was invited down to make mosaic portraits with the girls who attend the center in Cabarete, DR. We worked with a local potter and made tiles from raw clay, fired them and created these 2 mosaic portraits. One is of Mama Tingo, a Dominican woman, an activist farmer, who led a movement for the rights of repressed people. The other is Harriet Tubman, conductor on the Underground Railroad, who risked her life for the freedom of others.
Posted in Recent Projects | Tagged Cabarete, clay, Dominican, Dominican Rubublic, DR, end generational poverty, force for change, girls, Harriet Tubman, Mama Tingo, Mariposa, Mariposa Foundation, mosaic, tiles | Leave a response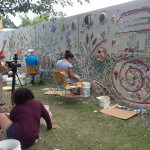 By zwackart on September 3, 2015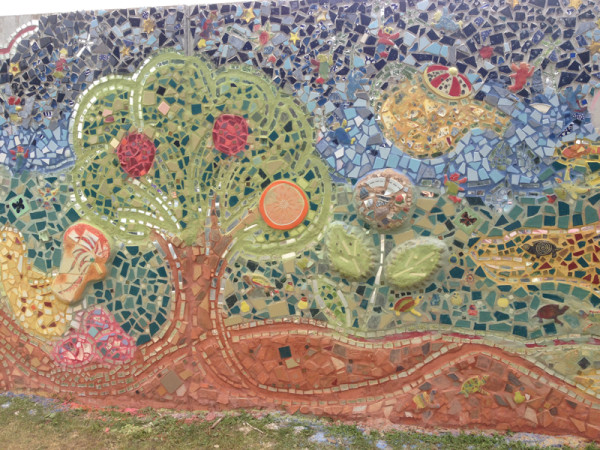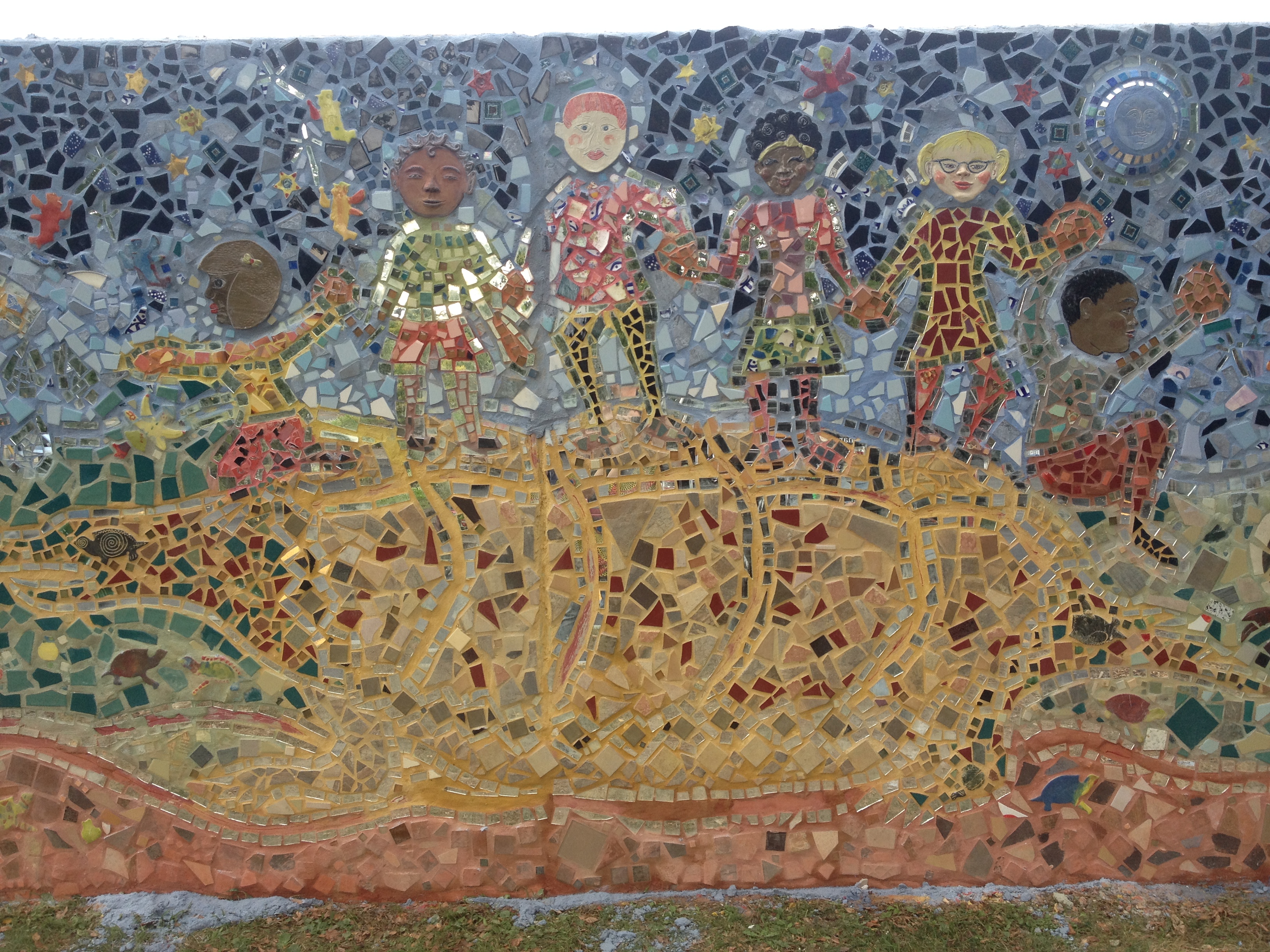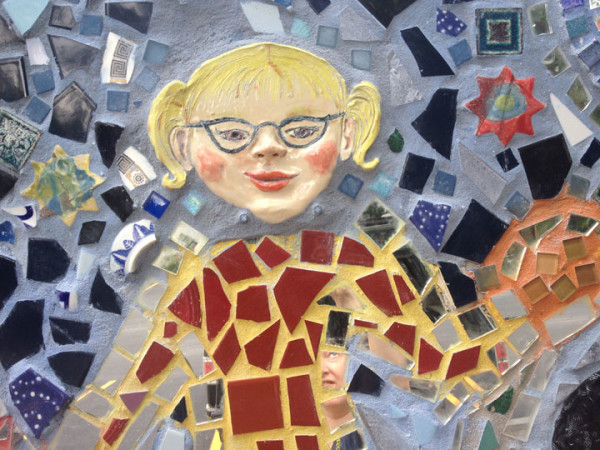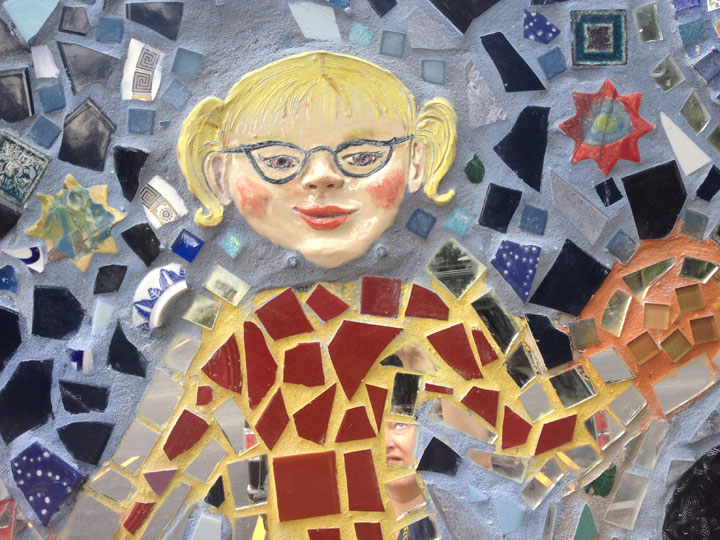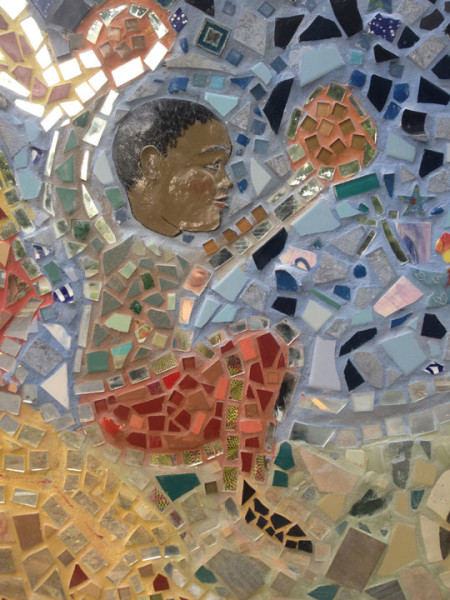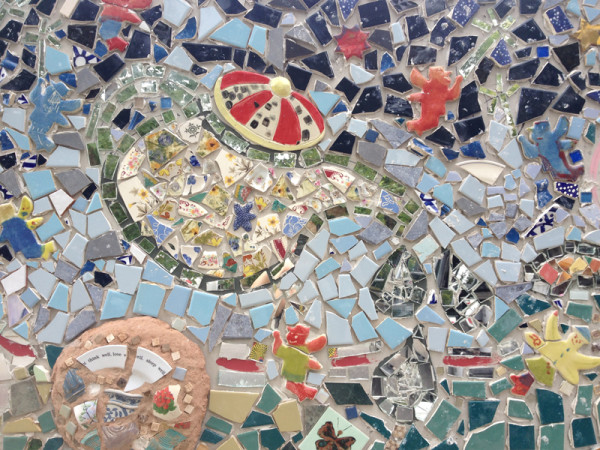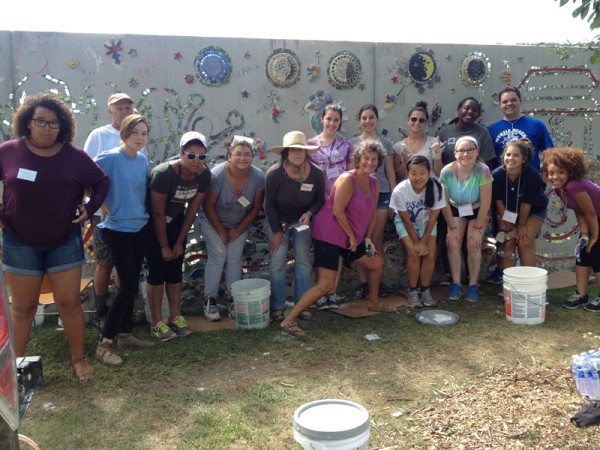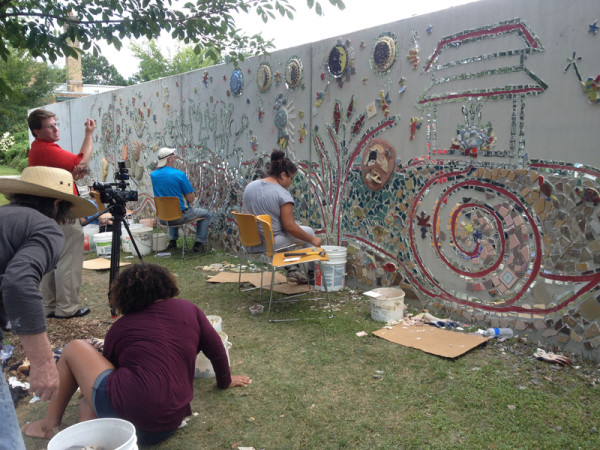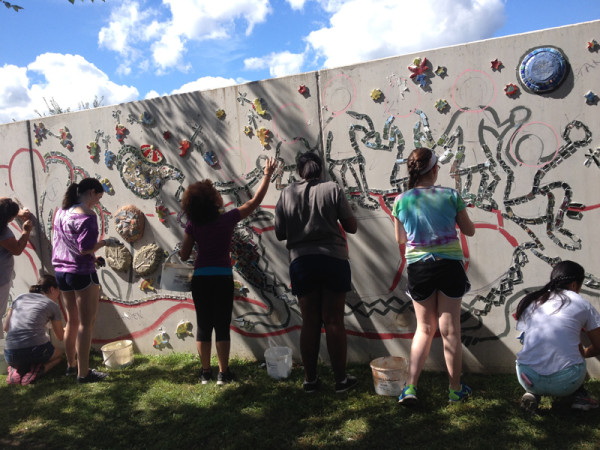 We did a 2 day community build installation in late August. Here's some snaps of the fun! This is the 2nd year of an ongoing community built, artist led and organized, mosaic mural (now about 70′ long!), on the wall of the DPW facility, facing the Sciencenter parking lot (and Rt. 13) in Ithaca, NY. Volunteers pictured here are part of Ithaca College's Community Plunge program. We were also lucky to have several local high school students, hired as apprentices, through the Ithaca Youth Bureau's summer employment program.
This year we teamed up with the Ithaca Children's Garden, that is celebrating the 10 year anniversary of their Gaia snapping turtle sculptural installation. ICG summer campers (Ithaca area kids ages 6 to 10 years old) brainstormed the design and created turtle and fairy tiles based on their plan. Much of the Children's Garden is represented in this latest panel of the mural. The outdoor kitchen is shown as a building housing a big steaming bowl over a fire. The bulb labyrinth is shown as a big spiral path. The phases of the moon appear over Gaia and six children that ride her back. To the left, a fabulous teapot pours out an herbal brew, from the Children's garden. And last, a chicken on a nest full of eggs, under a fruit tree.
Please stop by and enjoy if you are in Ithaca. And stay in touch though our FaceBook page.
Posted in Recent Projects | Tagged art, City of Ithaca, clay, collaboration, collage, community, Community build, DPW, Gaia, Gaia's garden, Isaiah Zagar method, Ithaca, Ithaca Children's Garden, mural, NY, public art, Science Center, Sciencenter, tiles, volunteer, Youth | Leave a response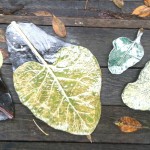 By zwackart on October 9, 2012
These high-fired ceramic leaves are made from impressions of real leaves, most of them Burdock leaves. Burdock is a "weed", with fierce burrs, but it's root is used to help the heart and cleanse the blood. Sometimes the veining pattern in the leaves reveals the image of a heart.
Posted in New in the Studio | Tagged art, ceramic, clay, leaf, plant, sculpture, tile | Leave a response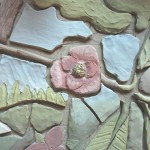 By zwackart on May 8, 2011
This year I won a Crossroads grant to create a tile mosaic and work with Robert Salvato, a skilled wood working artist to create a bench for a public park in Erin, NY. Below are some images from my process of making it.  It is now complete and about to be installed. The Town of Erin has scheduled an unveiling to take place October 29th at 1pm in the new park, behind the fire station. Please come and enjoy the festivities if you are in the area. I am told there will be free hot-dogs.
This bench was made possible in part, with public funds from the New York State Council on the Arts' Decentralization Program, administered locally by The ARTS Council of the Southern Finger Lakes.
Posted in Recent Projects | Tagged clay, collaboration, grant, mosaic, tiles | 1 Response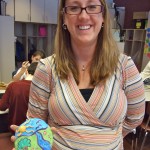 By zwackart on February 8, 2011
This is the third year in a row that I have had the privilege of being the artist in residence for the Chemung River School Project. Each year, naturalists and a poet visit with fourth graders. They get to go to the Arnot Art Museum, the History Center, and the Tanglewood Nature Center as part of a cross disciplinary study of the Chemung River that flows through Elmira, NY. This year, in what we hope is a pilot for a larger public art mosaic project, like we did in Ithaca in 2010, students made clay tiles out of raw clay using low relief sculptural techniques to describe their experience of the river. Here are some pictures of the process. There were seven classes from three schools that participated.
Posted in In the Classroom | Tagged Arnot Art Museum, BOCES, clay, cross disciplinary, painting, school, sculpting, tile, tiles | Leave a response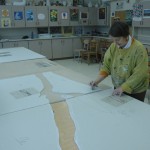 By zwackart on October 22, 2010
All ten schools in the Ithaca City School District participated in making this ceramic tile mosaic mural. The Ithaca Fine Arts Booster Group and the Ithaca Public Education Initiative generously sponsored the project and the City of Ithaca supported it as well. The mosaic is an image of the Ithaca area watershed with the smooth dark pebbles representing Cayuga Lake inlet and the tributary creeks that flow into it. Students made the tiles that represent the land masses from slabs of clay carefully cut out to create a map.
Posted in Recent Projects | Tagged Cayuga, clay, community, Ithaca, mosaic, mural, New York, public art, watershed | 2 Responses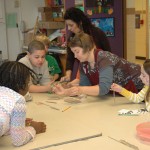 By zwackart on October 22, 2010
Ben Franklin Elementary School in Binghamton, NY decided to make up a fable about how the skunk got it's stripe. They called me in to help them make clay tiles to depict their narrative. They called on renown storyteller Regi Carpenter to help Ms. Culligan's class of second graders develop their tale. Here are some pictures of students making the tiles from raw clay, performing their story in front of the whole school and many parents, and of myself,  art teacher, Athena Negros, and Enrichment specialist, Jill Browne, and Kate Culligan installing the tiles on the wall of the school.
Posted in In the Classroom | Tagged arts in education, clay, mosaic, school, tiles | Leave a response