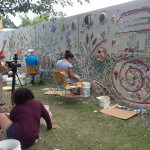 By zwackart on September 3, 2015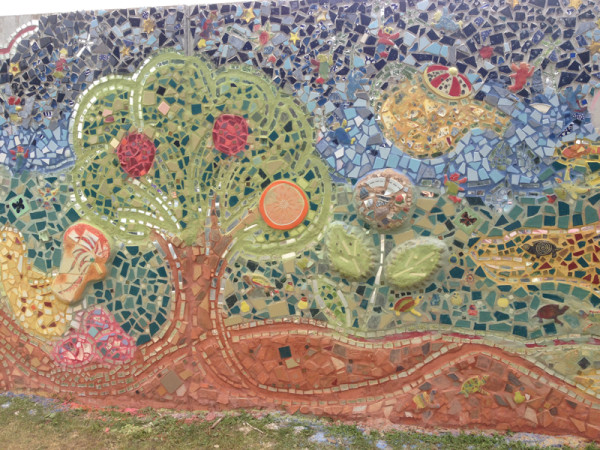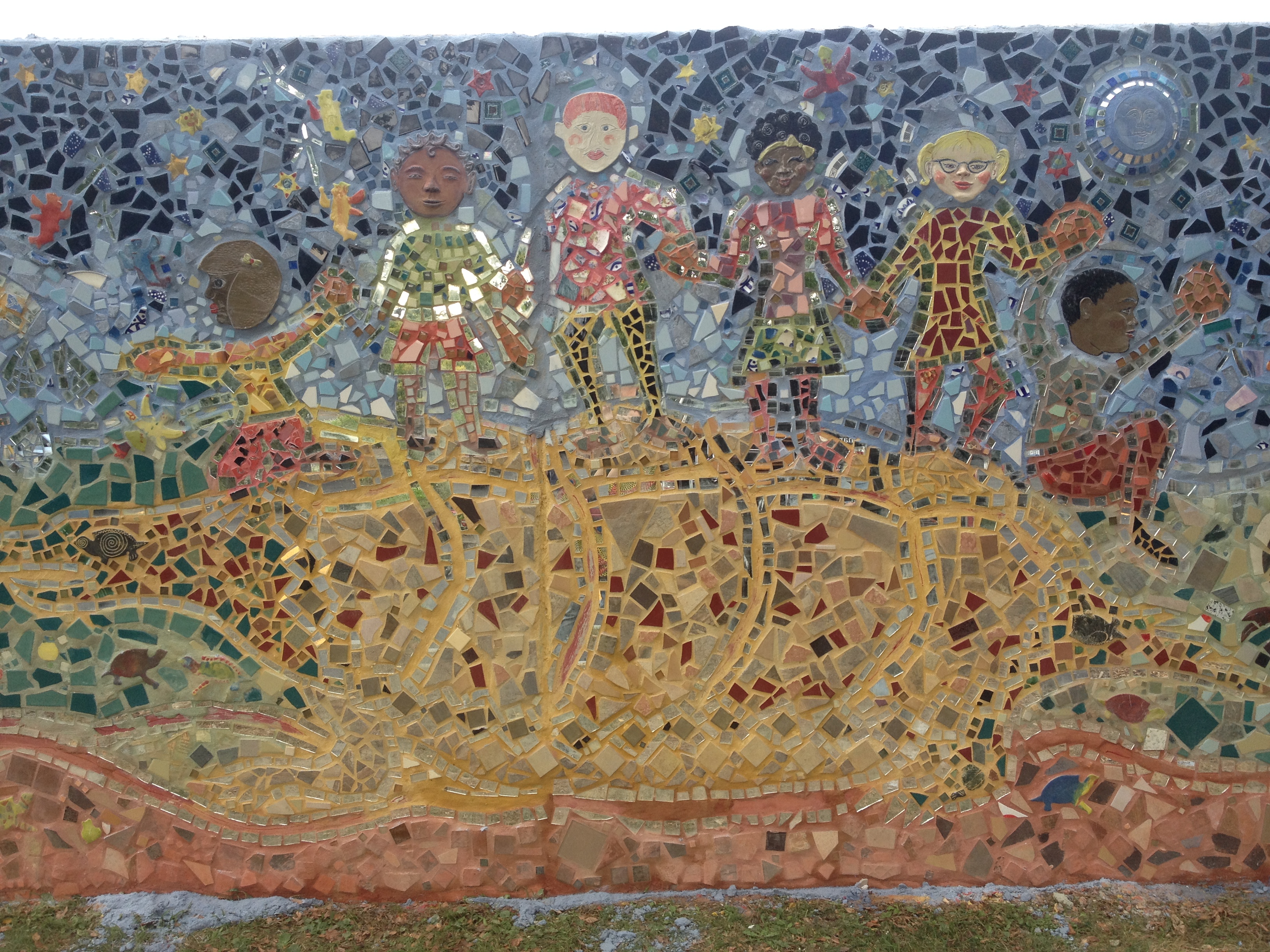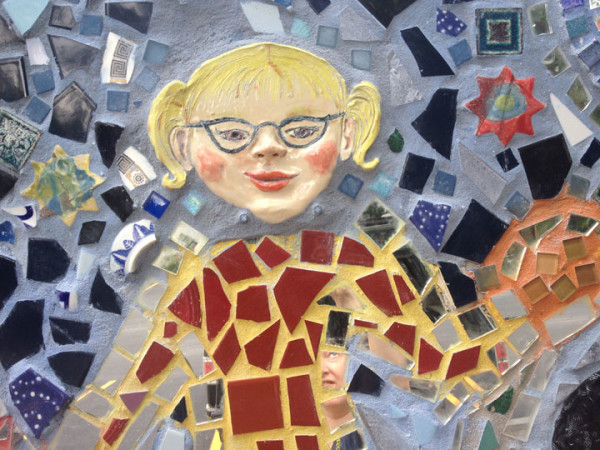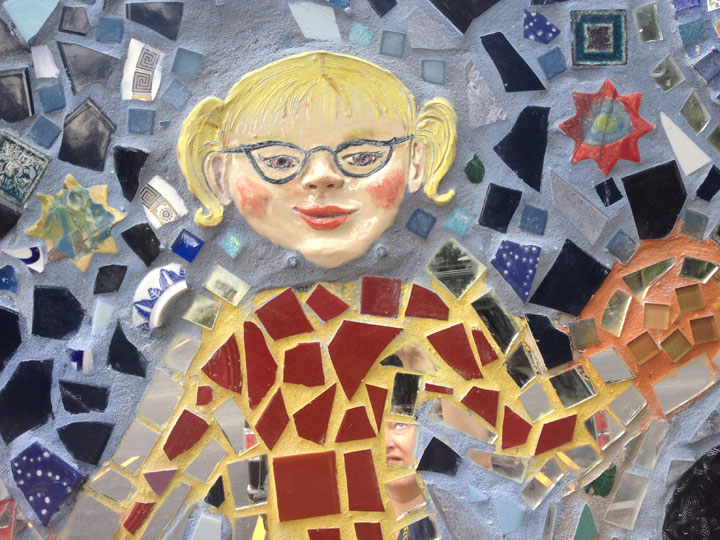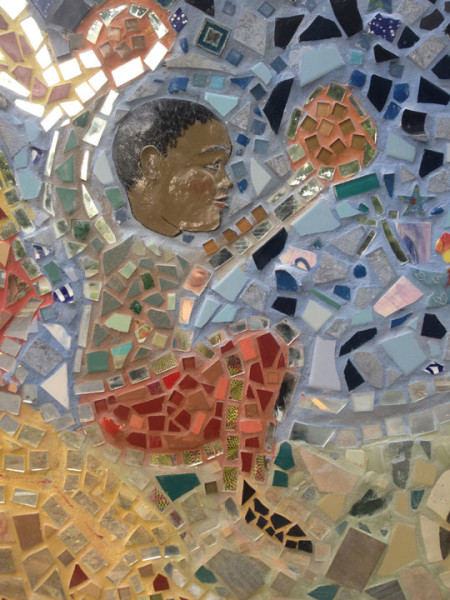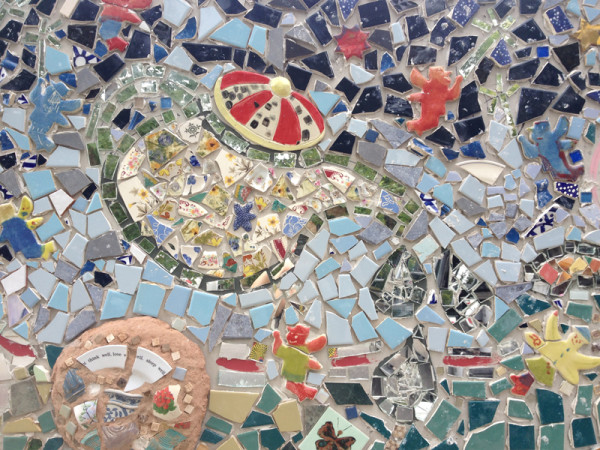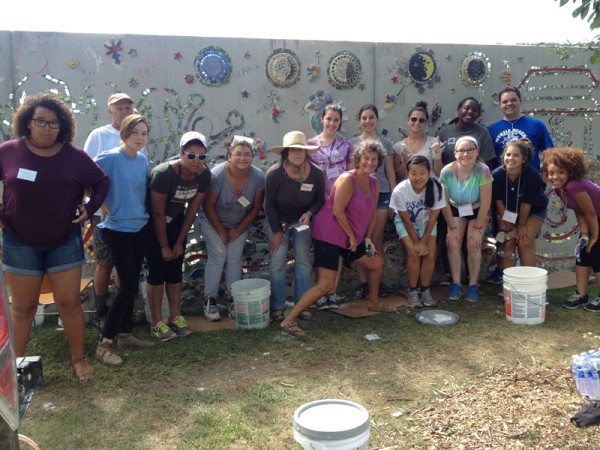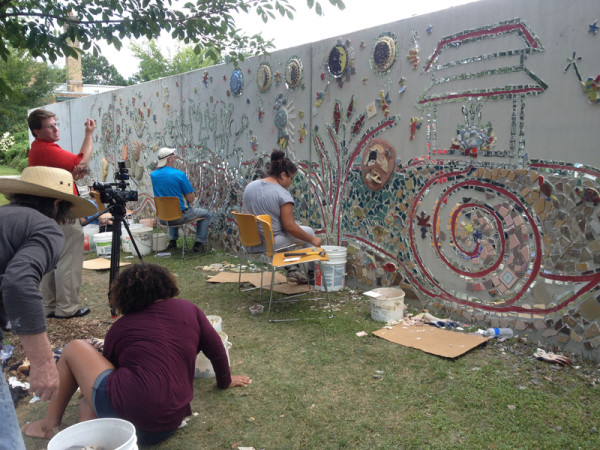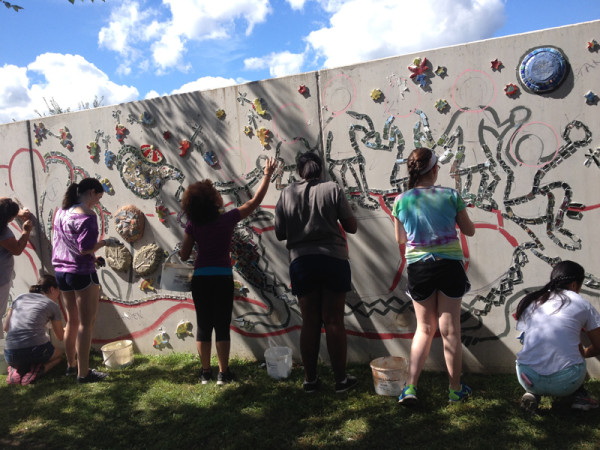 We did a 2 day community build installation in late August. Here's some snaps of the fun! This is the 2nd year of an ongoing community built, artist led and organized, mosaic mural (now about 70′ long!), on the wall of the DPW facility, facing the Sciencenter parking lot (and Rt. 13) in Ithaca, NY. Volunteers pictured here are part of Ithaca College's Community Plunge program. We were also lucky to have several local high school students, hired as apprentices, through the Ithaca Youth Bureau's summer employment program.
This year we teamed up with the Ithaca Children's Garden, that is celebrating the 10 year anniversary of their Gaia snapping turtle sculptural installation. ICG summer campers (Ithaca area kids ages 6 to 10 years old) brainstormed the design and created turtle and fairy tiles based on their plan. Much of the Children's Garden is represented in this latest panel of the mural. The outdoor kitchen is shown as a building housing a big steaming bowl over a fire. The bulb labyrinth is shown as a big spiral path. The phases of the moon appear over Gaia and six children that ride her back. To the left, a fabulous teapot pours out an herbal brew, from the Children's garden. And last, a chicken on a nest full of eggs, under a fruit tree.
Please stop by and enjoy if you are in Ithaca. And stay in touch though our FaceBook page.
Posted in Recent Projects | Tagged art, City of Ithaca, clay, collaboration, collage, community, Community build, DPW, Gaia, Gaia's garden, Isaiah Zagar method, Ithaca, Ithaca Children's Garden, mural, NY, public art, Science Center, Sciencenter, tiles, volunteer, Youth | Leave a response
By zwackart on February 6, 2014
So here's the update on the Martin Luther King Freedom Walkway project with the City of Ithaca:
I am excited to announce that I have received confirmation of my selection by the City of Ithaca to create a design for the location markers along the walk and the anchor sculpture to go in front of Southside Community Center.I am in the process of getting input from the community. Here's a really nice interview I did with Maya Cueva, a reported with WICB's Ithaca Now program, talking about the project and the importance of community engagement.
And on the 1st St. Project
I also received a confirmation from the Tompkins County Tourism Bureau for a Neighborhood Celebrations grant to hold tile making events in Ithaca's Northside neighborhood in preparation for the 1st St. Mosaic Project. Mark your calendars for Saturdays April 12th and 26th for the 1st St. Mosaic Project's tile making events. The project has also secured approval From the New York Foundation for the Arts as a tax deductable giving opportunity through Artspire.
Posted in News & Events | Tagged 1st St Mosaic, art, City of Ithaca, engagement, First Street, GIAC, Martin Luther King, Maya Cueva, MLK Freedom Walkway, mosaic, New York, NY, public art, Southside Community Center, Tompkins county, Tourism Bureau, WICB | Leave a response