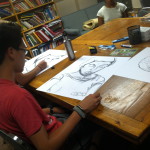 By zwackart on July 2, 2014
This is my third year teaching art classes to the students in the Cornell Upward Bound program. Today we worked on figure drawing and some portraiture, in charcoal on large format paper, with a model.
And the model is a young woman who took private art lessons from me when she was 7, and now she is 19! She is just home from her first year of college. I recognized her at the grocery store and struck up a conversation. Turns out she is still into art! Yay!!
A very positive experience all around!
Posted in In the Classroom | Tagged art, charcoal, college prep, Cornell, drawing, figure drawing, Ithaca, life drawing, New York, NY, portrait, sketch, students, Upward Bound | Leave a response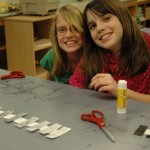 By zwackart on March 3, 2011
As you may have noticed on the calendar, I've been teaching a drawing class at the local Middle School after school. I was inspired by the snowy landscape here in rural central New York state. Sometimes the skies are much darker than the earth all covered in snow. The bright white of snowy ground is emitting more light than the sky itself! Perfect to draw in charcoal. I love how charcoal smudges. It can be intensely dark or sublimely faint and subtle. Charcoal is as old as fire, and is a completely non-toxic art material. Our first class together I had students make gradations from the lightest marks they could make to the deepest dark they could muster with many smoothly blended steps in between. They then cut these up and made the value matching tool you see in the pictures. They observed the landscape outside their school and made these sketches.
Posted in In the Classroom | Tagged afterschool, art, arts education, charcoal, classes, drawing, kids, landscape, PAVE, public school, school, snow | Leave a response