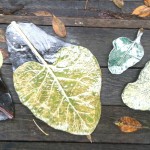 By zwackart on October 9, 2012
These high-fired ceramic leaves are made from impressions of real leaves, most of them Burdock leaves. Burdock is a "weed", with fierce burrs, but it's root is used to help the heart and cleanse the blood. Sometimes the veining pattern in the leaves reveals the image of a heart.
Posted in New in the Studio | Tagged art, ceramic, clay, leaf, plant, sculpture, tile | Leave a response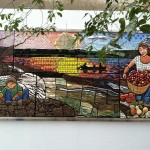 By zwackart on October 5, 2012
"Feels Like Home" was installed by the Ithaca Department of Public Works and wrapped in a big blue plastic tarp for the unveiling. It only took them a few hours to hang all 6 panels in their stainless steel frame. JJ and I were on hand during the whole process, and watched with delight as more than a year's planning and work came together on the wall of the Seneca and Tioga streets parking garage in Ithaca, NY. We had a lovely unveiling ceremony and the work is now on view 24 hours a day, rain or shine. Enjoy!
Posted in Recent Projects | Tagged art, ceramic, Ithaca, mosaic, NY, public art, tiles | Leave a response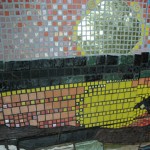 By zwackart on July 11, 2012
I am so excited to introduce "Feels Like Home" ~Spirit of Ithaca mosaic mural. These are photos of the completed work on the lawn behind my studio. It will soom hang on the Tioga Street side of the Seneca/Tioga parking garage in Ithaca, NY. Stay tuned for details about the official unveiling. And please come see in person. There is just SO much detail! This baby is 6′ x 13″!
Posted in Recent Projects | Tagged ceramic, City, Ithaca, mosaic, New York, public art, tile | 2 Responses