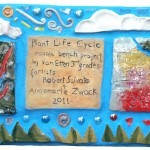 By zwackart on September 30, 2012
Please join the Van Etten Elementary School community to celebrate the completion and installation of these two mosaic benches depicting the life cycle of plants. They were made possible in part by a grant from the New York State Council for the Arts, administered locally by the ARTS of the Southern Finger Lakes. We will hold a dedication ceremony Monday October 17th from 5:50 to 6pm at the playground to recognize the creative success of student and community artists, and Van Etten teachers and staff.
Posted in In the Classroom, Recent Projects | Tagged art, arts, arts in education, collaboration, education, grant, life cycle, local, mosaic, New York, NY, plant, public school, school, science | Leave a response
By zwackart on August 14, 2011
Spirit of Ithaca Mosaic
Back in January, the Community Arts Partnership of Tompkins County, New York and The City of Ithaca Public Arts Commission put out a call for design submissions for a mural on a parking garage at Tioga and Seneca Streets, in Ithaca. They were applying for a grant that's deadline was quickly approaching. Based on the commission's suggestions of themes, and my own ideas about what is important in life and how I see Ithaca, I pulled some photos together in a collage in Photoshop, created a budget, and submitted it. In March or so, I heard back that I had been chosen as their artist and now we would wait to hear if we received the grant monies. In early August, I heard from City of Ithaca Common Councilor, and member of the public art commission, Edward Rooker saying that "Yes! We had gotten the grant" and could proceed. During the time I had to muse on this project, my heart settled on the idea that instead of using paint I would like to try making this mural out of mosaics. Last summer I purchased an electric kiln. I have gotten more confident in firing it & I feel that I now have the tools at my command to be able to do a ceramic mosaic of my own design, creating many (most?) of the tiles I will use by hand. I am really excited to do this! First, I needed to create a scale drawing. The space I will use measures 6′ x 13′. Next, I made a pilgrimage to Susan Jablon Mosaics in Vestal, NY. Emily Jablon, Susan's daughter, & a mosaic artist who has done many public art installations, was there and was very generous in her donation of materials. I came back to my studio, absolutely thrilled!, and set the glass tiles from Jablon out on the scale drawing. This helped me wrap my mind around how many square feet (out of 78) I would need to construct by hand from clay. Next, I headed over to my friend and fellow artist Deb Youngling's house to roll out some slabs from a heavy grog, high fire, white clay body. Here are some examples of the tiles I've been making.
Posted in New in the Studio | Tagged art, arts, collage, drawing, grants, in the studio, Ithaca, mosaic, mural, New York, NY, photoshop, public art, scale | Leave a response