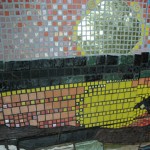 By zwackart on July 11, 2012
I am so excited to introduce "Feels Like Home" ~Spirit of Ithaca mosaic mural. These are photos of the completed work on the lawn behind my studio. It will soom hang on the Tioga Street side of the Seneca/Tioga parking garage in Ithaca, NY. Stay tuned for details about the official unveiling. And please come see in person. There is just SO much detail! This baby is 6′ x 13″!
Posted in Recent Projects | Tagged ceramic, City, Ithaca, mosaic, New York, public art, tile | 2 Responses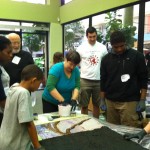 By zwackart on May 11, 2012
Thank you "Ithaca is Community" volunteers!
A city wide day of volunteering was inaugurated this year by Ithaca's new mayor, Svante Myrick, on a rainy Earth Day. On the Commons, in Ithaca, a fantastic team of  volunteers gathered and helped me grout one of the panels of the "Spirit of Ithaca", the public art mosaic I've been working on since last summer. I plan to have it installed this summer on the exterior wall of the parking garage at the corner of Tioga and Seneca Streets.
Posted in Recent Projects | Tagged art, community, Earth Day, Ithaca, mosaic, mural, New York, public art, tile, volunteer | Leave a response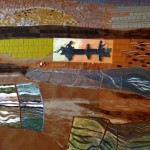 By zwackart on March 2, 2012

Great news! The City of Ithaca is going to foot the bill for a stainless steel frame for the mosaic, and provide skilled workers to install it. I am SO grateful. I finished sculpting the last tiles out of raw clay and am firing them this weekend. Tim Merick has the panels completed and ready to deliver. Earthday weekend is a big volunteer weekend with an event hosted by Ithaca's mayor at the Youth Bureau. I am getting the work ready so that I can get the community's help grouting the whole thing!
Posted in Recent Projects | Tagged Earth Day, Ithaca, mayor of Ithaca, mosaic, sculpture, tiles, volunteer | 1 Response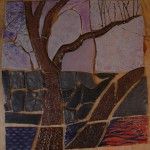 By zwackart on October 4, 2011
Glazed ceramic tile, fresh out of the kiln at Zwackart studios. Latest installment of work on public art mosaic mural to be installed in Ithaca, NY in Spring of 2012.
Posted in Recent Projects | Tagged art, glaze, grant, home, Ithaca, NY, public art, studio, tiles | 1 Response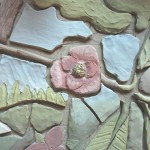 By zwackart on May 8, 2011
This year I won a Crossroads grant to create a tile mosaic and work with Robert Salvato, a skilled wood working artist to create a bench for a public park in Erin, NY. Below are some images from my process of making it.  It is now complete and about to be installed. The Town of Erin has scheduled an unveiling to take place October 29th at 1pm in the new park, behind the fire station. Please come and enjoy the festivities if you are in the area. I am told there will be free hot-dogs.
This bench was made possible in part, with public funds from the New York State Council on the Arts' Decentralization Program, administered locally by The ARTS Council of the Southern Finger Lakes.
Posted in Recent Projects | Tagged clay, collaboration, grant, mosaic, tiles | 1 Response
By zwackart on February 7, 2011
I have a friend who makes maple syrup from the trees on her land. Recently, she had a baby girl. She asked me if I would make a wall hanging in black and white of a tree to hang over her daughter's bed. I have heard that the high contrast between black and white is one of the first visual distinctions the human eye is able to perceive. "A Maple?" I asked? "A tree."
I am working on it. I took a piece of black linen and smoothed it over a cotton muslin, natural in color, not bleached. I drew a tree in brown pastel and pinned the 2 layers together. Then sewed, changing the path of the branches as needed.
This is just the first few moments in the making of an image to hang over a crib. I thought I'd record the spareness of these few elements before I move on.
Posted in Recent Projects | Tagged art, baby, comission, fabric, fiber, quilt | 1 Response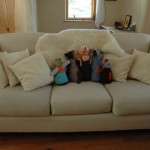 By zwackart on February 3, 2011
I've been tidying up around my studio. It feels good to do in the new year! Happy Chinese New Year, by the way. I rearranged my furniture and as soon as I got it all set-up, the sweater babies jumped on the couch and started mugging to get their picture taken together. Well, they were so cute, of course I grabbed my camera and started clicking away. Here's a few of my shots of these super friends.
Posted in Recent Projects | Tagged fiber art, soft sculpture, studio | 1 Response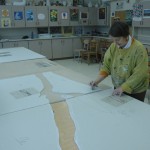 By zwackart on October 22, 2010
All ten schools in the Ithaca City School District participated in making this ceramic tile mosaic mural. The Ithaca Fine Arts Booster Group and the Ithaca Public Education Initiative generously sponsored the project and the City of Ithaca supported it as well. The mosaic is an image of the Ithaca area watershed with the smooth dark pebbles representing Cayuga Lake inlet and the tributary creeks that flow into it. Students made the tiles that represent the land masses from slabs of clay carefully cut out to create a map.
Posted in Recent Projects | Tagged Cayuga, clay, community, Ithaca, mosaic, mural, New York, public art, watershed | 2 Responses