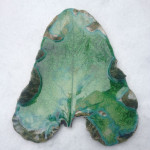 By zwackart on February 10, 2015
I have been experimenting with melting glass onto my ceramic work. Here is a fun example! The base tile is a high fire ceramic sculpture with a Burdock leaf imprint on it. It has been glazed several times, but I was looking for further richness of color. I am pretty happy with the results.
Posted in New in the Studio | Tagged bottle, burdock, ceramic, glass, glaze, leaf, mold, re-use, recycle, sculpture, tile, up-cycle | 1 Response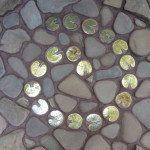 By zwackart on May 26, 2014
This summer, I decided to make an outdoor shower. This mosaic was soon to follow. The river rocks are smooth and pleasing to the touch, and their understated colors allow the green of the ceramic tile leaves to really stand out. These natural shapes, colors, and textures blend well with the woodland setting of the shower and the other materials from which it is made.
Posted in New in the Studio | Tagged Andrew Goldsworthy, art, ceramic, decor, home, home improvement, leaf, leaves, mosaic, nature, outdoor shower, pebbles, river rocks, spiral, stone, tile | Leave a response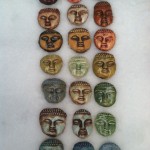 By zwackart on December 4, 2013
Posted in New in the Studio | Tagged art, bird, Buddha, ceramic, custom tiles, Guan Yin, handmade, Kuan Yin, Quan Yin, tiles | Leave a response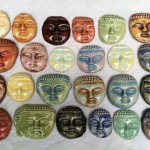 By zwackart on October 19, 2013
If you look very carefully, you may see the face of Buddha in the hills of Ithaca, in my mosaic Feels Like Home, on Tioga St. And perhaps you remember my Potential Buddhas series of paintings? Well, these days I am making Buddha faces, of many shapes and sizes, as ceramic tiles. They can be a tiny icon for your alter, a touchstone to keep in your pocket to remind you of your own true nature, or maybe the keystone in a the tile work you are doing on your back patio. However you choose to enjoy them, I hope they bring a little peace to all that see and touch them.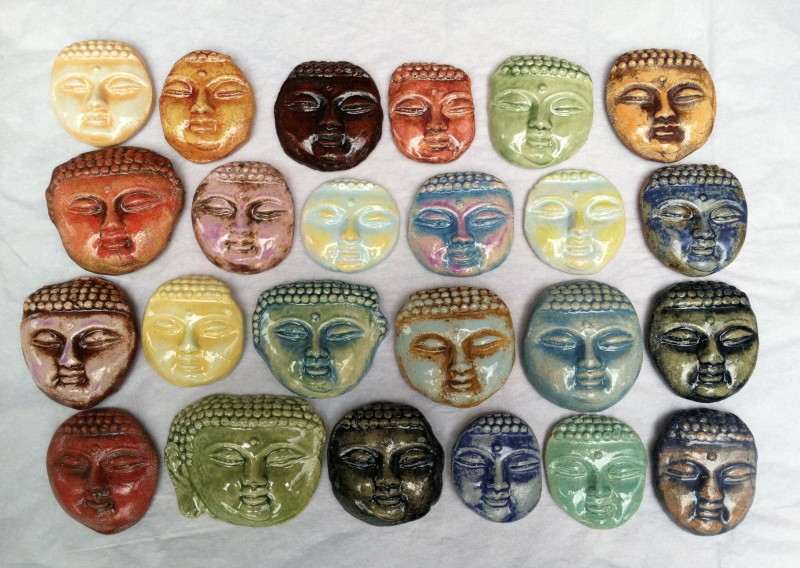 Posted in New in the Studio | Tagged Buddha, ceramic, face, interior design, Ithaca, mosaic, New York, tiles | 3 Responses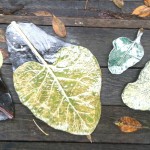 By zwackart on October 9, 2012
These high-fired ceramic leaves are made from impressions of real leaves, most of them Burdock leaves. Burdock is a "weed", with fierce burrs, but it's root is used to help the heart and cleanse the blood. Sometimes the veining pattern in the leaves reveals the image of a heart.
Posted in New in the Studio | Tagged art, ceramic, clay, leaf, plant, sculpture, tile | Leave a response
By zwackart on August 14, 2011
Spirit of Ithaca Mosaic
Back in January, the Community Arts Partnership of Tompkins County, New York and The City of Ithaca Public Arts Commission put out a call for design submissions for a mural on a parking garage at Tioga and Seneca Streets, in Ithaca. They were applying for a grant that's deadline was quickly approaching. Based on the commission's suggestions of themes, and my own ideas about what is important in life and how I see Ithaca, I pulled some photos together in a collage in Photoshop, created a budget, and submitted it. In March or so, I heard back that I had been chosen as their artist and now we would wait to hear if we received the grant monies. In early August, I heard from City of Ithaca Common Councilor, and member of the public art commission, Edward Rooker saying that "Yes! We had gotten the grant" and could proceed. During the time I had to muse on this project, my heart settled on the idea that instead of using paint I would like to try making this mural out of mosaics. Last summer I purchased an electric kiln. I have gotten more confident in firing it & I feel that I now have the tools at my command to be able to do a ceramic mosaic of my own design, creating many (most?) of the tiles I will use by hand. I am really excited to do this! First, I needed to create a scale drawing. The space I will use measures 6′ x 13′. Next, I made a pilgrimage to Susan Jablon Mosaics in Vestal, NY. Emily Jablon, Susan's daughter, & a mosaic artist who has done many public art installations, was there and was very generous in her donation of materials. I came back to my studio, absolutely thrilled!, and set the glass tiles from Jablon out on the scale drawing. This helped me wrap my mind around how many square feet (out of 78) I would need to construct by hand from clay. Next, I headed over to my friend and fellow artist Deb Youngling's house to roll out some slabs from a heavy grog, high fire, white clay body. Here are some examples of the tiles I've been making.
Posted in New in the Studio | Tagged art, arts, collage, drawing, grants, in the studio, Ithaca, mosaic, mural, New York, NY, photoshop, public art, scale | Leave a response