By zwackart on October 8, 2016
I find inspiration and rejuvenation in the incredible natural beauty of the Finger Lakes region of New York, where I live. Here are some photos from a recent trip to Robert H. Treman State Park. Many of the paths leading through this awesome geological formation are impressive examples of human labor that use the vocabulary of the landscape. Stone bridges, walkways, and stairs lead a visitor to stunning views, and serve as a reminder that humans have been appreciating this particular waterway for quite some time, and have gone to great lengths to help others enjoy it too. I am grateful for the opportunity to walk these paths, and the chance to share their beauty. Happy Autumn!
Posted in Inspiration | Tagged Finger Lakes, gorges, Ithaca, light, nature, New York, NY, Treman, water, waterfall | Leave a response
By zwackart on October 18, 2013
Posted in Inspiration | Tagged Finger Lakes, leaves, lichen, moss, nature, New York, photography, sky, trees | Leave a response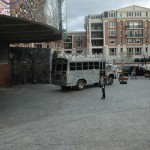 By zwackart on August 24, 2012
I want to share these images of the American Visionary Art Museum which is a beautiful inspiration to me. It was new at the time that I was graduating from art school in Baltimore (at MICA) and I got to see its inaugural shows. I love this place! And if ever I am in Baltimore, I check to see what is the latest vision is.
Posted in Inspiration | Tagged American, art, attraction, Baltimore, mosaic, museum, outsider, Visionary | Leave a response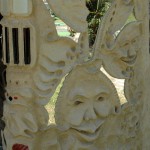 By zwackart on March 3, 2011
I am so grateful to have gotten to visit New Zealand and stay with Kiwis! One distinct advantage is that not only did our host in the far north, Peter Visser, know the region and what would be interesting to see and do, he knew the people! It was our very good luck that he knew Darge Sumner personally and called her up and asked if it would be OK for us to pay her and her amazing home a visit. She welcomed us with open arms! Here's a glimpse of her amazing space.
When Darge was in her mid 60s she decided to totally change her living space and, along with her son, developed a new combination of concrete, clay, and recycled wet newspaper that allows for amazing sculptural possibilities and lends itself particularly well to creating mosaics!
Posted in Inspiration | Tagged concrete, meet the artist, mosaic, New Zealand, sculpture, tile, tiles, tour, travel | Leave a response