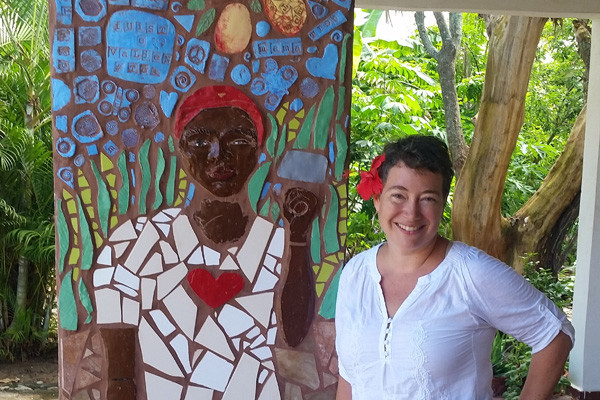 Annemarie Zwack is a visual artist who works in a variety of materials and specializes in working with communities to help them realize their creative goals.
She has been working with schools on Arts in Education projects, where students use art to express core curriculum, for the past 13 years.
Her own work began with a love of drawing and painting which led her study in Italy and France and to a BFA in painting from the Maryland Institute College of Art. An interest in geometric design, and a watershed trip to Spain and Morocco began an exploration of a wide variety of surface design techniques which she used to create "art quilts". Her series Self Portraits in Bones and Where the Wheel was Born both received critical acclaim and traveled widely. Zwack's current focus is on handmade ceramic tiles that she sculpts and glazes. They are sometimes incorporated into her mosaic work and sometimes displayed individually.
Please enjoy the images of her work on this site, visit them in person, or get in touch to commission new work or find out about collaborating. You can also follow ZwackArt on Facebook and Twitter.